The striker also spoke on Erling Haaland's future and his favourite young Indian talent.
The Indian Super League (ISL) has seen highly-rated overseas players from every corner of the globe. This season has been no different, as players like Greg Stewart, Adrian Luna and Jonathas de Jesus have delivered to expectations. Another player, Daniel Chima, came to India with SC East Bengal after plying his trade in Poland, China and Norway, where he played under former Manchester United boss Ole Gunnar Solskjær.
The Nigerian forward failed to deliver what the SC East Bengal fans hoped for from him. But, fate had something exciting for him in India. After the departure of their talismanic forward Nerijus Valskis to his former club Chennaiyin FC, Owen Coyle roped in the striker. And that turned out to be the best winter transfer signing in the club's history, with the player netting seven goals in eight games.
Overcoming the lacklustre patch with the Red and Gold Brigade, Daniel Chima has shown his attacking prowess with Jamshedpur FC. He inspired them to seven wins in the eight games he's played for the side so far. Chima has also assisted once, meaning he has eight goal contributions in as many games for the Men of Steel.
Recently, Khel Now caught up with Daniel Chima for an exclusive interview. Here are the experts from our conversation with the player.
Assessment of season & Champions League aspirations
With seven wins in their last eight games, Jamshedpur FC are the favourites to claim the top spot, clinch the League Shield and play in AFC Champions League.
"It's been great to make the playoffs for the first time in the club's history. It is the result of the constant efforts we put in. But, again the target is still to go and win the next game," the striker started.
On winning the League Winners' Shield and playing in the AFC Champions League, the forward exclaimed, "It's a dream of every player to become successful in the Champions League. It'll be a special moment for us too. We will try to win points from every game to achieve that."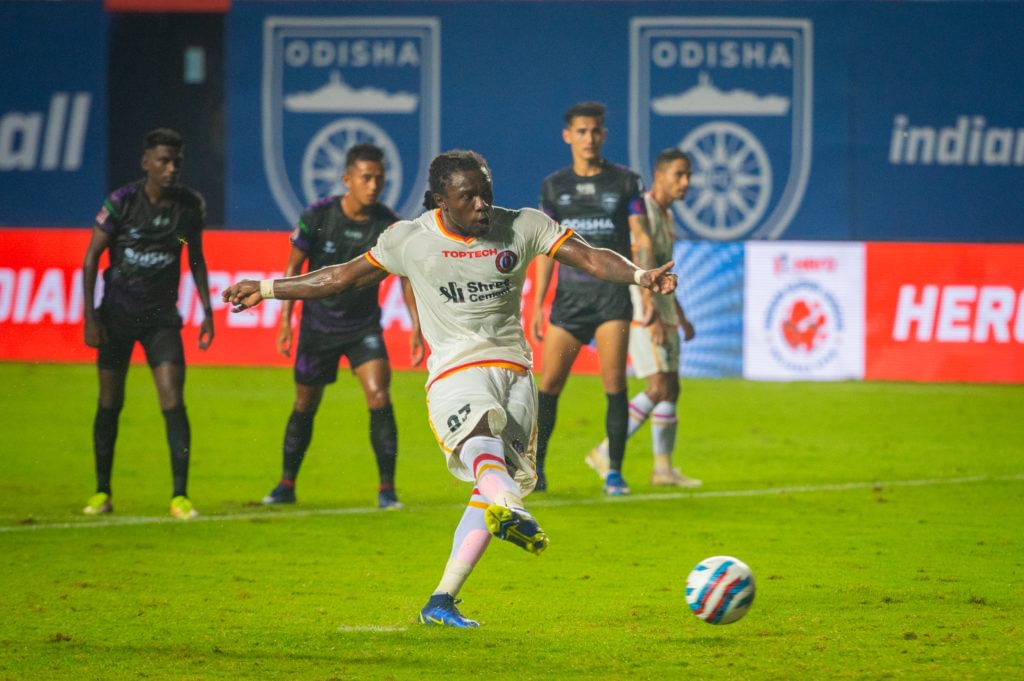 Coming to India
"Before coming to India, I was on my contract in China, but then they went bankrupt. At that time, I was still on holiday in Nigeria. I couldn't sit at home without a job, so the best I could do was to return to China, but the borders were closed (due to COVID-19 spread in the country).
"So, I told my agent let's expand our options and then he told me about an offer from India. I said okay that'll be a good challenge for me. I decided to test myself here and try how the league is. That's how I'm here.
"I wouldn't change much with what I've seen here. The only thing that needs to be done in the league is officiating better. It needs to be much better than what is right now. In terms of playing, the Indian players and foreigners are doing good justice to the league."
Thoughts when Jamshedpur approached
Daniel Chima came to India and signed for SC East Bengal with a huge reputation. The first couple of months were far from his standards and the striker found it difficult to adapt. Moreover, it was not the ideal start the Nigerian would have hoped for. He was about to return home in January after leaving SCEB, when Jamshedpur approached him.
"Yes, my time at SC East Bengal didn't go according to my plans. But, at the same time, this wasn't really that bad for me. When I got the chance to come here, I thought this is another shot to show that if it didn't work well in this place doesn't mean it'll not work. I had to give my best and do all I could to be at my top level. Over here, it is working, but I'm not doing anything different from what I was doing at SC East Bengal," the forward commented.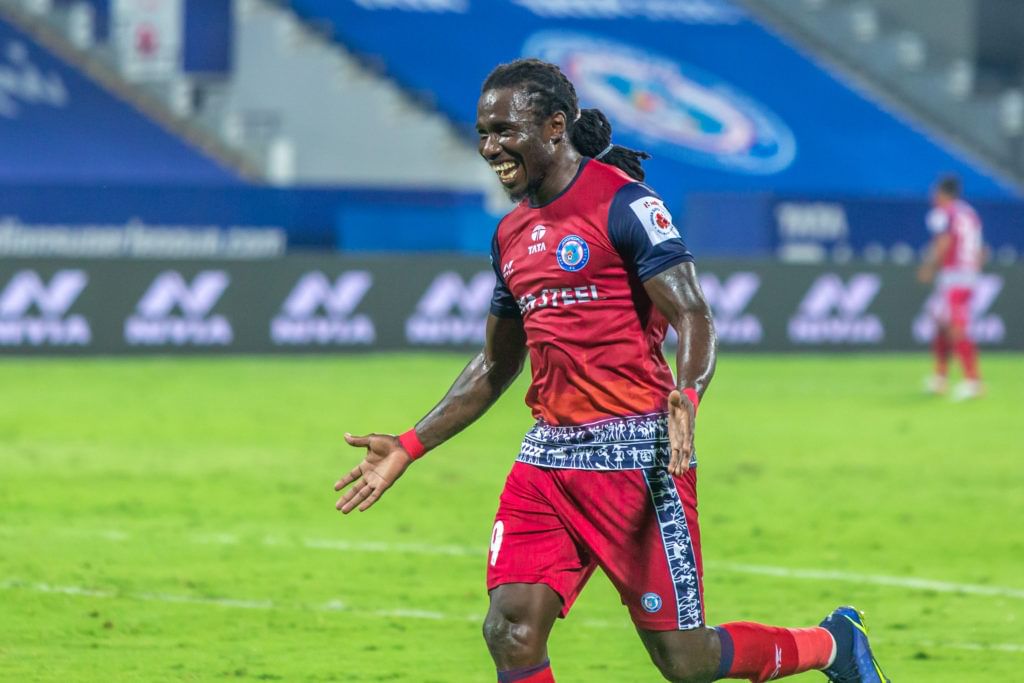 Adapting to Jamshedpur in mid-season
Daniel Chima is having a fairy-tale start to his story with Jamshedpur FC, despite joining mid-season. The striker was asked to speak on his start with the new club and was it difficult to adapt.
"Not really, as it wasn't the beginning of the season when we have to get full fitness. This is not the first time. I have been playing in different leagues and different countries. So, adapting was not difficult, as I was already fit for games. All I needed to do was to get to know the players and how they play which was not at all difficult to do here. It was really easy for me to adapt at Jamshedpur."
Coach's Philosophy
"The philosophy of the coach plays a big part in the players' performances. When you know that your coach believes in your abilities, it's a big motivation to not disappoint him. When I came here I did everything and have not disappointed him," the target man said about the role of a coach in players' form.
Talking about the influence of Owen Coyle in this turnaround, Chima answered, "It's been massive because ever since my arrival he has been encouraging me. He told me that he followed my games at SC East Bengal and I didn't do bad at all.
"Every time he pushes me, one is not enough go for more and never back down. When you have the coach always in your ear, you push yourself more to go," he continued.
Young Players
Due to the four foreigners' rule, the domestic young players are showing their abilities. Jamshedpur FC have always invested in youngsters and have reaped the rewards this season.
"I see the youngsters here have brilliant talents. Boris (Singh), Ritwik (Das), Jitu (Jitendra Singh) and Ishan (Pandita) have been good and the best part is they're so young. I'm sure they will soon earn a call-up to the national team and will be among good players for India in coming years."
When asked to name one who caught his eye, Daniel shared, "If I have to name one, I'll go for Ishan (Pandita). I am a big fan of him and I can see him doing well in future, if he works with dedication and puts in proper hard work."
Playing under Ole Gunnar Solskjær
On playing under Solskjær, Chima reflected, "Considering the fact that he was a striker himself worked in my favour. He would correct me everytime I made a mistake.
"So, he used to tell me how to position myself when not on the ball. Even now, I try to follow those and keep myself in a good position to score if the ball comes," he shared.
Playing alongside Erling Haaland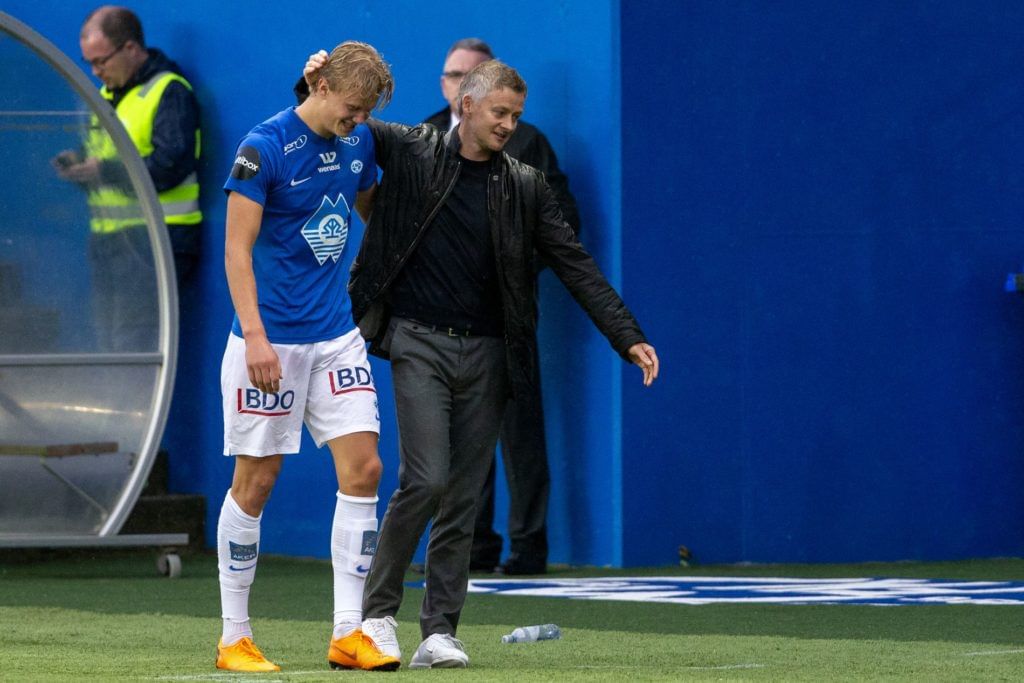 "When I came back to Molde, he was injured and did not play much. But, when he got back and started training with the team, I knew this person has got fire and real rhythm. There was a game and I was supposed to play, but then Ole came and told me he wanted to play Erling Halland. The game started and within 20 minutes he scored four goals. It was game, set, match. We knew he was going to go far from here."
"His dad plays a big role in his moves. He will make sure to not to push him to a club where his career gets ruined. All the moves he has made so far had worked for him. So, I think his next move will be to a place that can prepare him to play at some very big places. I'm sure they'll make the right decision," he commented on the speculation regarding the future of the Dortmund striker.
For more football updates, follow Khel Now on Twitter, Instagram and join our community on Telegram.