Several ex-players, club legends came together on Mohun Bagan Day to express their sentiments for the club.
Every year on 29th July, Mohun Bagan Day is celebrated reminiscing the club's historic IFA Shield win in 1911. But this year, due to the pandemic situation, it was held online and several current and former players, club legends across the world came together to share their experiences with the fans.
The first panel had players like Jose Ramirez Barreto, Sony Norde, Bhaichung Bhutia and Joseba Beitia and was hosted by senior journalist Dhiman Sarkar. The players shared stories from their time at the club as fans, for the first time, witnessed all of them together.
Norde proceeded by sharing his insightful transfer story. The winger was then plying his trade for Bangladeshi outfit Sheikh Russel Dhanmondi and he narrated how the Club President wanted them to beat Mohun Bagan in the IFA Shield in 2014.
"I remember I was playing for Dhanmondi and we came to India for IFA shield. We played good football and then the Club President said even if we lost the other games and won against Mohun Bagan, there will be a big bonus. The club is everywhere in the world. That time Odafa (Okolie) was there but he was injured."
"We defeated Mohun Bagan 1-0 and I scored a freekick. We also won against East Bengal and reached the finals. After that, the Mohun Bagan club officials came to Bangladesh and met me and from there I signed for the Mariners. From that day, I became a fan of the club. I have played for so many clubs but I haven't felt like this before. Every time I speak about Mohun Bagan, I always have a different sensation."
From the Haitian, the baton shifted to the Mohun Bagan player of the 2019-20 season, Joseba Beitia. He narrated the turning point of their title-winning season under Kibu Vicuna.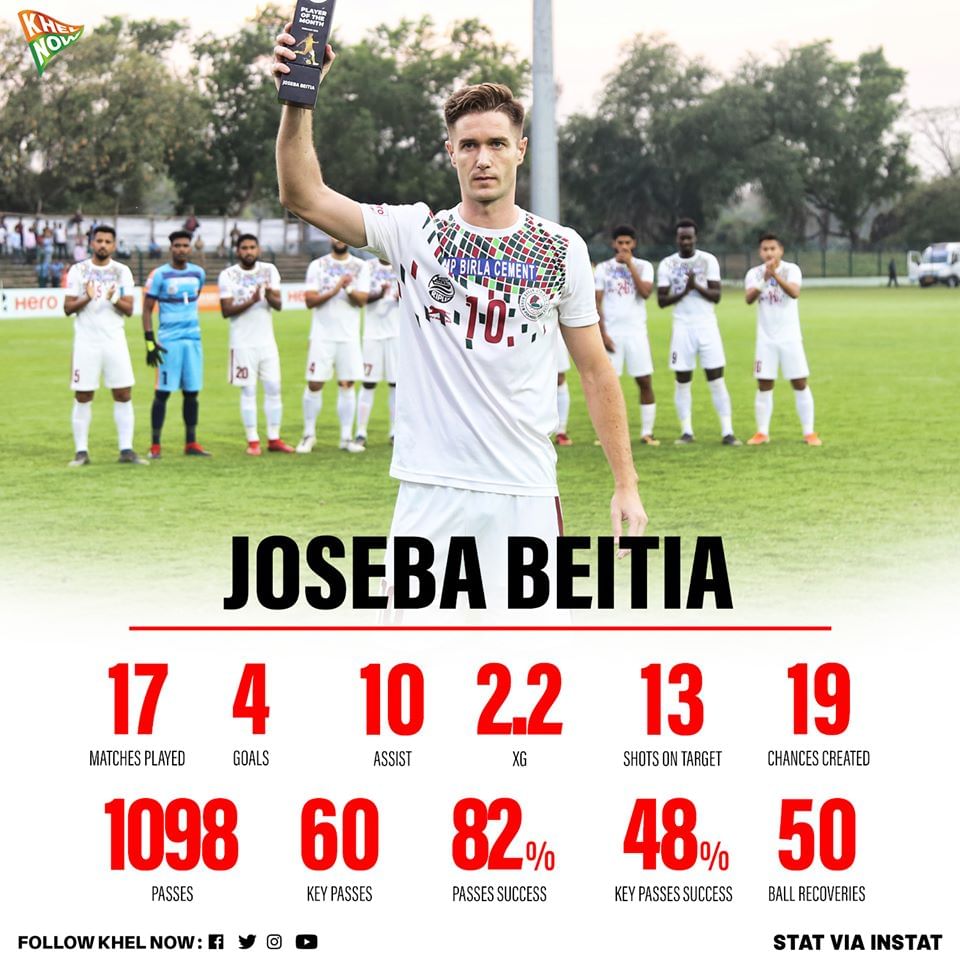 "I think, our turning point was when we lost our home game against Churchill Brothers at Kalyani. That match was the turning point because at that moment, the team was playing good football but still we lost 4-2. So sitting at the dressing we were like 'don't worry we are playing well, we are in good shape and if we play like that in every game we would win the league.' That loss made us believe in ourselves. From there, we continued in the same way and won the league."
Reliving the scenes from the past, Barreto explained how he and Bhutia became a deadly striking duo for the Green and Maroons. The former India captain joined Mohun Bagan for a second stint in 2006 and from there the chemistry between the two started building up.
"We complemented each other. Bhaichung had things which I didn't have and vice versa. He was more of a box player, always closing in. I was a little bit different. I used to roam around the markers trying to get space to find a way to facilitate him. We'd always find each other in the final third and that's why I think we just complemented each other. We had a great understanding and that continues even today. Of course, I never saw Bhaichung as Indian, I always thought he was a foreigner. I understood his potential and believed that he could score goals from anywhere," Barreto narrated.
Meanwhile, the Indian football legend was the only player in the panel who played for both Mohun Bagan and East Bengal and he shared his experience with the fans in Kolkata.
"When I signed for Mohun Bagan for the second time, a lot of East Bengal fans would ignore me on the streets. People on the road would tell me how a traitor I am and all sorts of things," Bhutia recalled.
"You get a lot of abuses from the rival fans and then when you don't do well for your own team you get abuses from your own supporters. So that was a difficult moment and I have experienced it with both the teams and it is an area where you need to be mentally strong."
In the next segment, the panel was full of local players who, after the ATK and Mohun Bagan merger, are set to return in their known Green and Maroon jersey for the upcoming season. It consisted of players like Pritam Kotal, Pronay Halder, Subhasish Bose and Prabir Das who shared their stories from the past and also highlighted their aspirations for the future.
Prabir Das started the proceedings and shared his aspirations for the club in the coming years. "I was not with the I-League-winning team of Mohun Bagan, so my first target will be to win trophies for the club. It is not always in our hands but I will try my best for the club and the supporters. I was speaking with the other players and we have been discussing about the AFC Cup. I think if we can keep our focus and do well in Asia along with the ISL, it will be very big for the club."
ALSO READ: Mohun Bagan: Retracing Mariners' century-long history of success
Interestingly, all four of them started their careers at a very young age and played for the club in their early years as professionals. So, when quizzed about the pressure of handling the fans in Kolkata, Halder was very composed as he felt that the pressure helped him improve as a player.
"I always relish a pressure situation. It helps us grow as individuals. Also in my time, I have not experienced a moment where I felt that the supporters are pulling us down. In fact, they always backed us, cheered us up in tough times and even when we went to Mumbai, Goa, Bengaluru etc, they supported us with all their hearts. So this pressure came as a positive vibe to me and I always enjoyed it," opined the India international.
Lastly, Pritam Kotal shared his lockdown diaries of keeping himself fit for the upcoming season despite the current pandemic situation all over the country.
"The current situation is not allowing us to practice regularly but despite all the trouble, I am keeping myself fit and doing the best in my abilities to stay in shape. Let's see when we can get back to our normal life and resume practice sessions, which will only help to speed up the process. But for now, we are doing our best," Kotal signed off.
For more football updates, follow Khel Now on Twitter, Instagram and join our community on Telegram.