The Indian Football Team assistant and U-17 head coach shared snippets from his playing career among many other things.
Shanmugam Venkatesh is a well-known personality in the Indian football circuit. Once an accomplished midfielder for club and country, he is now influencing the Indian national team through his role as the assistant coach for the Blues.
The former East Bengal and Mohun Bagan player took part in a live session on Indian Football's official Instagram handle, where he shared his views on a range of topics. Now, being actively involved in football in the country, first as a player and now as a coach, Venkatesh is in a unique position to talk about the sport and the holistic development of the game from his playing days.
Speaking on the changes he has witnessed, Shanmugam Venkatesh opined, "In 94-95, most of the India camp players, they used to travel in the train to the camp. Until '97 or '98, it was the case. I started in '97. After 2000, in terms of facility-wise, we started getting more. Slowly, we were improving. Another important thing is that the knowledge of professional players was quite less then. The players were receiving less knowledge."
"Inside the field, no doubt the players were great, the quality-wise you couldn't question and there were players like Bhaichung Bhutia. One more important thing is exposure matches. There were less exposure matches early on. When Stephen (Constantine) joined the national team as a head coach in 2003, before LG Cup that time there were facilities kit-wise. If you see in '98, the players used to wear their club jerseys at the camp, then when Stephen joined, a lot of things changed and we got a proper kit and everything," he proceeded to further elaborate on the state of affairs in the early years of this century.
The coach highlights the exposure games and tours provided to the current national team players as the key to their development, something that wasn't prevalent when he was playing. "We had very less number of exposure tours. Even after Stephen, yearly we had 1-2 matches in terms of exposure matches. Now, if you see in the last few years, including the women's team, they have got a lot of exposure tours and international friendlies, even the U-17 World Cup team, all the age-groups."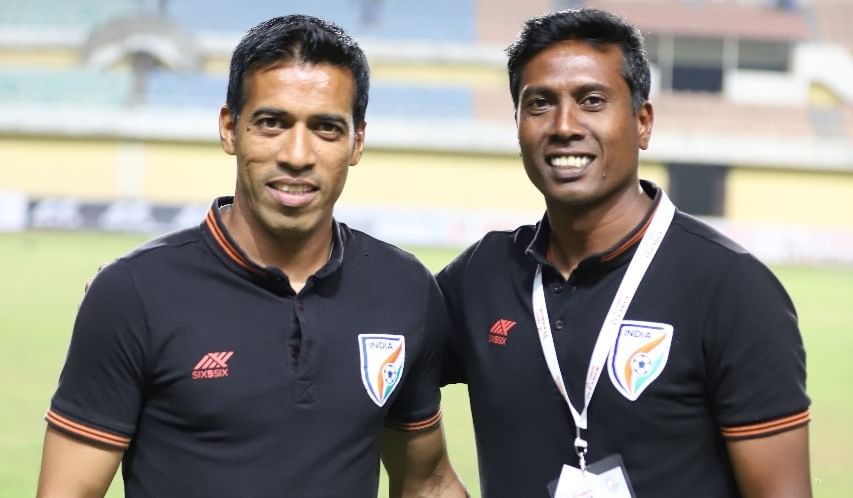 When quizzed about the potential impact of social media on the players, the 41-year-old said that he tries to keep the players away from it as it might negatively affect their performances. He believes that they might find it difficult to handle the criticism and harsh comments on these platforms, which, in turn will negatively affect their performances.
Apart from his job as an assistant coach, Venkatesh also manages the Indian Arrows. This gives him an opportunity to work at close quarters with some of the finest young talents in the country. One of them is 18-year-old forward Vikram Pratap Singh, who is earmarked by many for greater things and is already being compared to the current Indian captain Sunil Chettri.
Sharing his thoughts on the youngster and the comparisons, Shanmugam Venkatesh said, "My honest request to all the fans is you should think first before comparing him to any other player, It is not advisable to compare young players with such big players. Everyone knows which level Sunil has reached, how hard he has worked."
"My advice to any youngster watching Sunil, Sandesh (Jhingan) is that observe what they are doing and there is a long way to go. We have to provide young players confidence. Ofcourse, Vikram Pratap is a great player, has a great attitude, he is a team player, has tremendous stamina and is a very professional player. My advice as a coach is that they (young players) work every day."
Furthermore, Venkatesh displayed his admiration for the likes of IM Vijayan and Bhaichung Bhutia. He spoke about the special talents of the former and marvelled at the aggression and speed of the latter. However, he reserved special praise for former teammate and superstar striker Chhetri.
"We played together for India. He played under my captaincy. The beauty of Sunil is that he is very comfortable with both feet. Everyone knows that he is a great goalscorer, but Sunil is the only player I have seen who is comfortable with both feet."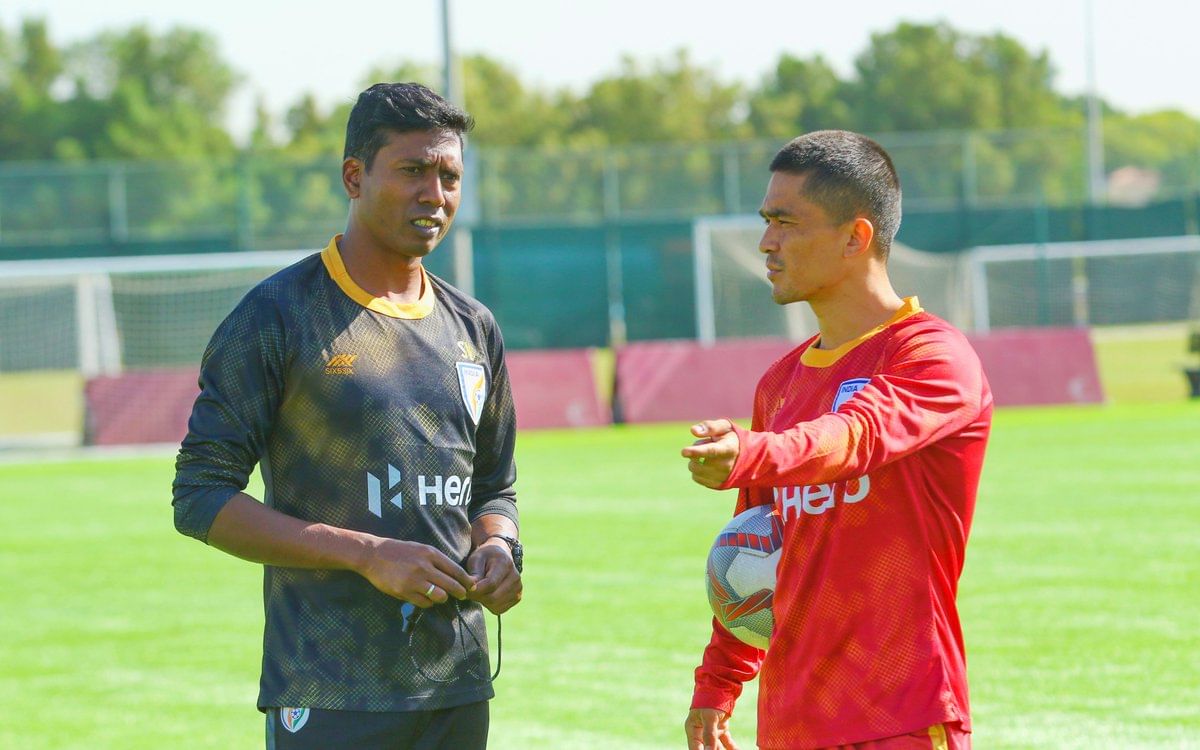 "If you watch any other player, you can easily find their weak foot. But, Sunil is comfortable with either foot. That hasn't happened today or yesterday. He works so hard for that. Another thing about Sunil is that he isn't only a goalscorer but can also make chances also for his team," Venkatesh remarked.
Sandesh Jhingan is another vital player for the national team. The central defender missed the last season of the Indian Super League due to an ACL injury. Moreover, after spending six years at Kerala Blasters, he parted ways with the club. There has been a lot of talk about his next move and the coach believes Sandesh is ready to play overseas.
"Firstly, whatever Sandesh is, it is due to his hard work. He is a fighter. We need players like Sandesh on the field. Sandesh has to go out and play in a foreign league. My advice to Sandesh is that he is ready to play outside India. This is the right time for Sandesh. He is very committed and wants to play all the games. He is a big fighter and leader at the back."
"Everyone keeps asking how we can improve Indian football and go to the next level. At least 8-9 players have to play outside India, in a tough league, not necessarily in Europe, even in Asia there is J-league and even UAE. Not only Sandesh, but even Anirudh Thapa also has great potential and even he can play (in a foreign league)."
Venkatesh is also confident that they won't face any trouble finding replacements in the future. He reasons that young players play almost 40-50 competitive matches against quality oppositions even before making their debut for the senior team, which makes the transition to the next level that bit easier.
When asked about the resumption of training, the coach revealed that they have planned to start next month, but are still awaiting permission from the government. In the meantime, they have given players their individual programmes and are monitoring their fitness. Lastly, he stated that the managing the national team might be an arduous task, but remains a huge motivation for all Indian coaches.
"It is a big motivation for all the Indian coaches. It is not very easy and it is a big challenge. The updates are very important for the coaches. We always share our knowledge with the players and another challenge is that we get 10 -20 days camp to prepare the players. It is very little time. It is different at the club level or domestic level. Man-management is also very important. Our young Indian coaches are working in the ISL and the I-League and are doing good. We have to work hard, especially at sharing our knowledge with the players," Shanmugam Venkatesh signed off.
For more updates, follow Khel Now on Twitter and join our community on Telegram.