Formula 1
Fernando Alonso wishes to end F1 career together with Lewis Hamilton as teammate
By

Akash Roy
Both were part of McLaren in 2007 and often clashed despite being teammates.
Fernando Alonso has come out to make his desires known- the two-time Formula 1 World Champion would fancy finishing his journey with seven-time World Champion Lewis Hamilton as his teammate.
Fans have speculated on this for years, ever since the two former teammates and rivals parted ways after McLaren. Hamilton started his career alongside Alonso at McLaren. The driver pairing happened on chance when the Spaniard switched teams for a new challenge, leaving after a successful stint with French manufacturer Renault.
There were visible sparks in their tumultuous relationship throughout the season. The friction between the two left the rookie Hamilton with a point to earn his stripes in front of a veteran. Alonso achieved four Grand Prix victories in Malaysia, Monaco, Europe, and Italy and was leading in the Driver's Championship until Hamilton overtook him.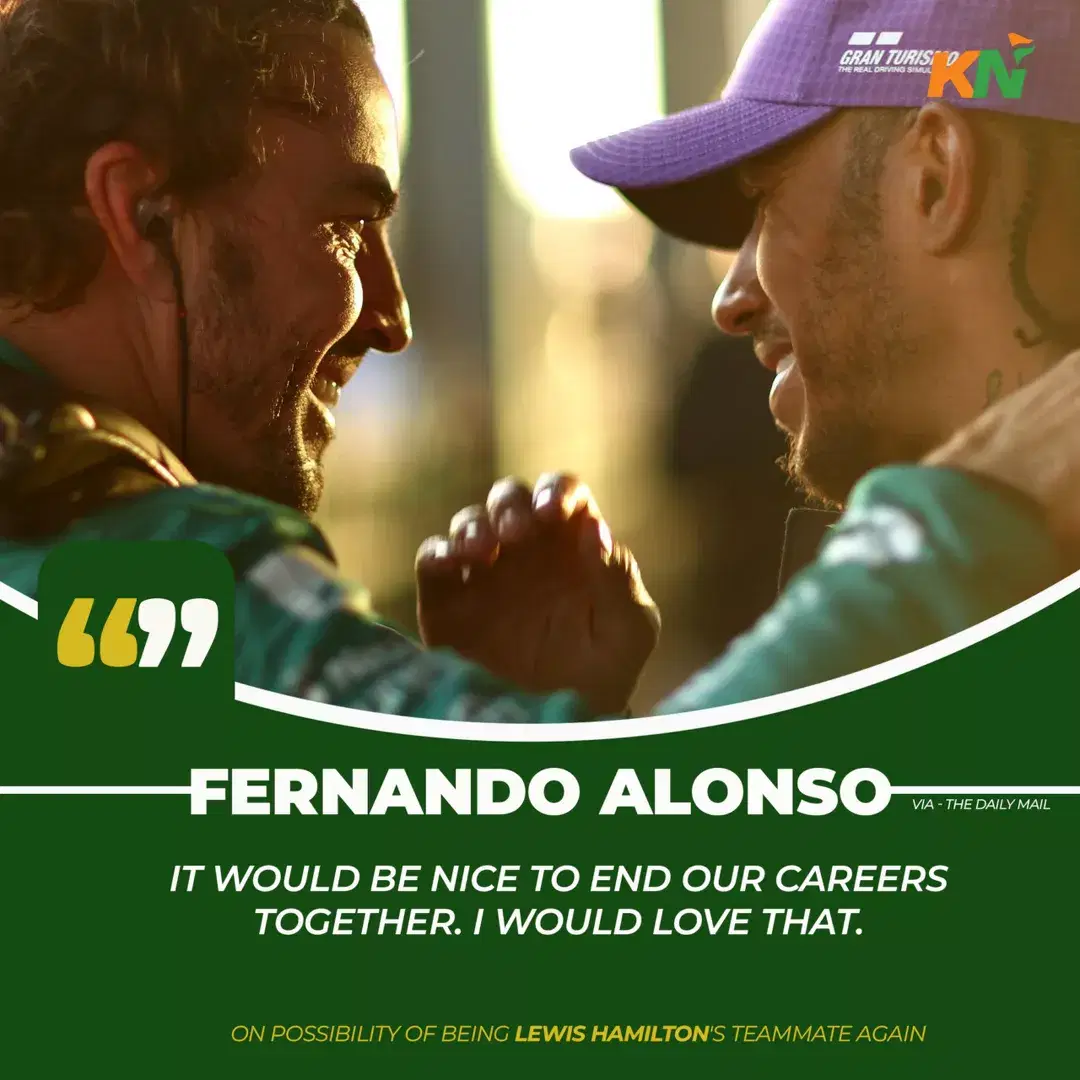 Unfortunately for McLaren, their two drivers failed to translate their 1st and 2nd positions in the leaderboard to silverware as Ferrari's Kimi Räikkönen stole the title away in the final race of the 2007 season. In the paddock, tensions were high after this humiliation as the relationship between the drivers went from bad to worse.
Before the start of the following season, Alonso and McLaren decided to mutually terminate his three-year contract due to a strained relationship at the outfit.
As the years progressed, both drivers matured in their way. Their infamous rivalry went on the back burner. Hamilton moved ahead of the grid, stringing an unwitnessed dominance with his new team Mercedes. Meanwhile, Alonso played the role of an experienced driver, serving multiple stints with Renault, Ferrari, McLaren, and Alpine and joining forces with Aston Martin for the ongoing season.
Aston Martin has sparked a new life into the 41-year-old. He has regularly been on podiums, showcasing that he still got it. Years later, Alonso finally got the option to race wheel to wheel and compete in races against his prodigy quite frequently again this season.
"It would be nice to end our careers together, I'd love that. We had a difficult season [at McLaren], but we respected what the other was doing on track and still do," Fernando Alonso was quoted as saying by The Daily Mail. "We each consider the other to be a talented driver and one of the toughest competitors we have ever met," he added on the idea of reuniting with Lewis Hamilton.
Both drivers have shown mutual respect for each other's legacy and craft. Reflecting on their McLaren days, Alonso admitted that he would love to reunite with Hamilton again. According to the Spaniard, it would be a perfect ending to their intertwined F1 careers.
For more updates, follow Khel Now on Facebook, Twitter, and Instagram and join our community on Telegram.