Formula 1
Formula 1: Top six drivers with most consecutive podium finishes in F1 history
By

Hisan Kidwai
These are some of the most dominant runs in the sport's history.
It's no secret that Formula 1 (F1) is widely considered the pinnacle of motorsports, thanks in part due to the extensive engineering that goes behind designing each vehicle. And although a fast car is a big advantage, it is the drivers who breathe life into the sport. Now, let's take a look at the drivers with the most consecutive podiums in F1 history.
6. Max Verstappen (11 consecutive podium finishes)
For anyone who follows the sport today, Max Verstappen is no stranger, having already won two consecutive Driver's Championships. From Abu Dhabi 2022 to Britain 2023, Verstappen maintains an ongoing streak of 11 consecutive podium finishes, further solidifying his prowess as one of F1's greatest talents. Additionally, with 11 more races ahead, he could potentially extend his podium run and rival the legendary Michael
5. Sebastian Vettel (11 consecutive podium finishes)
Sebastian Vettel is one most celebrated F1 drivers to date, thanks not only in part to his racing prowess but also to his genuine character. He had a dominant stint in 2013, where he scored 11 consecutive podiums. This achievement showcased his ability to adapt and remain competitive despite changes in regulations and fierce competition from his rivals.
4. Sebastian Vettel (11 consecutive podium finishes)
Making a comeback on the list is the German driver once again, this time for his domination with Red Bull in 2010 and 2011, he achieved an impressive 11 consecutive podium finishes, earning him four World Drivers' Championships.
3. Fernando Alonso (15 consecutive podium finishes)
Fernando Alonso is no stranger to the world of Formula 1, having been racing in the sport since 2001. And although the Spaniard has made some questionable career choices, his era of dominance from 2005 to 2006 was nothing short of magical. Scoring 15 podium finishes and winning seven races during this period, driving for Renault, he also clinched two world titles.
2. Lewis Hamilton (16 consecutive podium finishes)
Lewis Hamilton's prowess in the turbo hybrid era has truly been unmatched, with him currently tied for the most driver's championship trophies, i.e. 7. However, during his domination in 2014 and 2015, the British driver secured an extraordinary 16 consecutive podium finishes while also claiming the driver's championship in both years.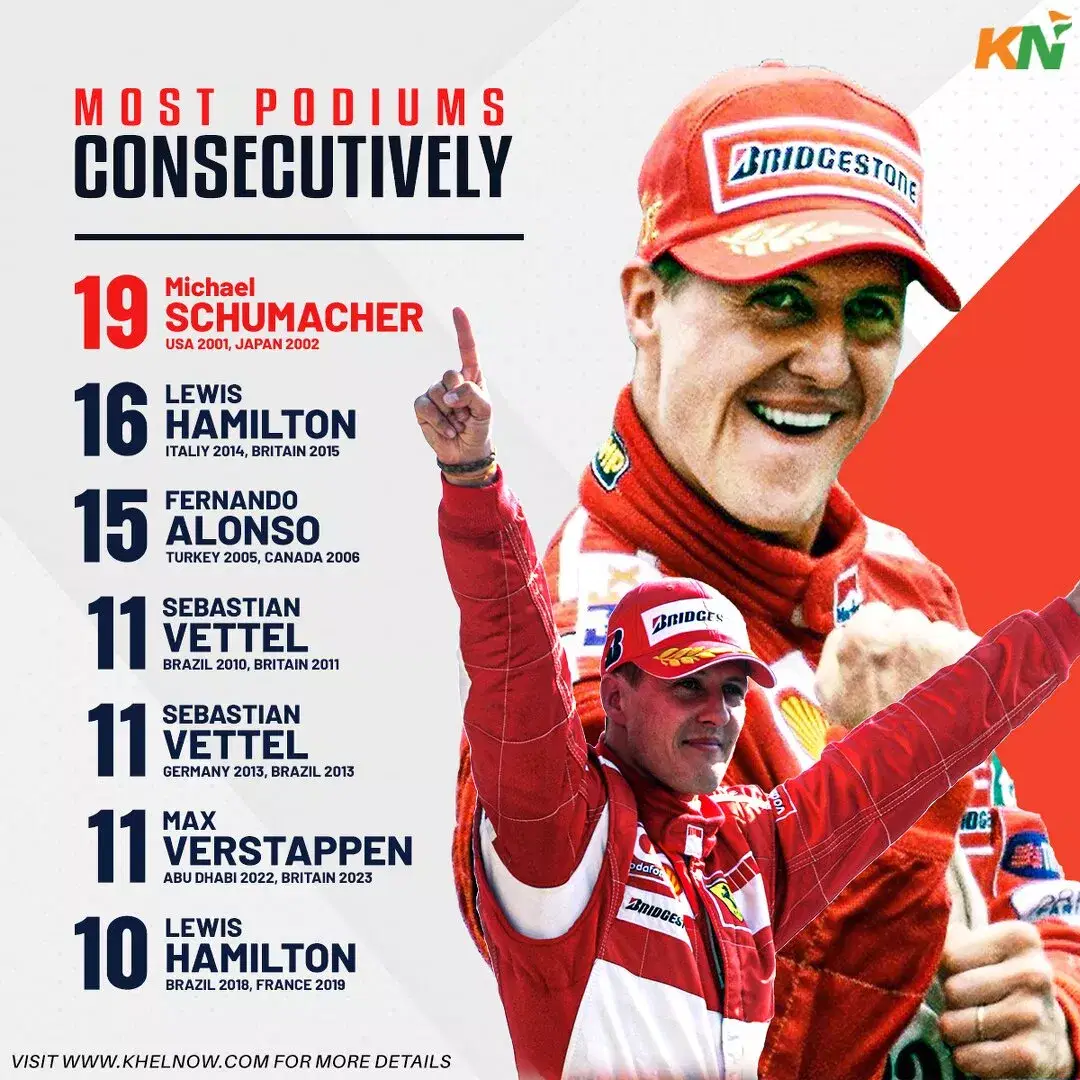 1. Michael Schumacher (19 consecutive podium finishes)
Michael Schumacher, for many today, is the greatest driver to have ever graced this sport, thanks in part due to his seven world titles and 91 race victories. However, his legacy extends beyond that, as he still holds the record for the most consecutive podium finishes. From 2001 to 2002, racing for Ferrari, Schumacher displayed unrivaled skill, securing 13 wins and finishing second six times.
For more updates, follow Khel Now on Facebook, Twitter, Instagram, Youtube; download the Khel Now Android App or IOS App and join our community on Whatsapp & Telegram.