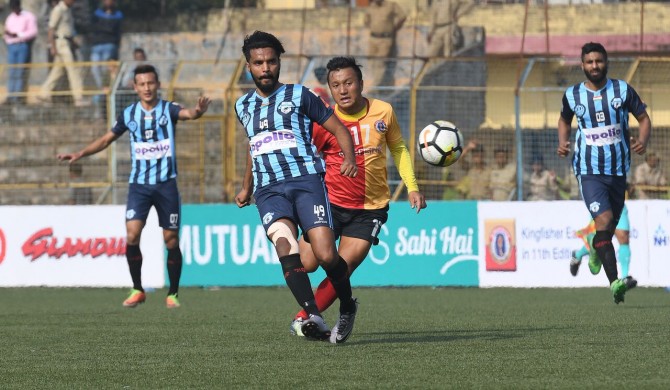 Exclusive: Minerva Punjab rubbish East Bengal's claims of signing four of their players
Club owner Ranjit Bajaj has slammed the Kolkata giants for wrongfully announcing his players as their new signings.
Minerva Punjab owner, Ranjit Bajaj, earlier today, lambasted East Bengal, as he claimed that he may take legal action against the Kolkata gaints for intentionally trying to poach his players. Recently the Red and Gold claimed that they have signed a handful of Minerva players, including Deepak Devrani, Sukhdev Singh, Gagandeep Bali and Kassim Aidara, who was termed as a replacement for Khalid Aucho.
---
---
But, speaking exclusively to Khel Now Bajaj said, "The trio of Sukhdev, Devrani and Bali have contracts till 2019 and we the club and the players have no idea of a deal taking place." Elsewhere, French midfielder Aidara impressed East Bengal as his team won the title this year. But, Minerva have clarified that reports stating the deal taking him to Kolkata to have been completed to be totally false.
Aidara is free to join the Kolkata giants, but only if and when he obtains a No Objection Certificate from the Punjab-based club. Bajaj confirned that such a certificate has not been issued for the player and that he already has an agreement with Minerva that the midfielder will have to share 25% of his future wages with the club.
---
---
Bajaj has claimed that the reigning champions are considering taking legal action against the Kolkata giants if they keep on trying to poach players from the club. The owner seemed furious as he said, "I don't know how the club and media can announce officially and both players and Minerva have no idea about it. We are considering taking legal action against East Bengal for spreading such false information."
Meanwhile, the punjab outfit also said that Rakshit Dagar has signed for East Bengal and hence they club refused other offers for their players. Speaking on the future of his players Bajaj reiterated, "We have no interest of holding them back. We are trying to facilitate deals for our players as a number of ISL and I-League clubs are interested in them."
It is reliably understood East Bengal's arch-rivals Mohun Bagan are in advanced talks to sign the three Indian players in question. Thus, it is likely that the Red and Gold's claims of having signed them are a tactical move to prevent them from heading to the Mariners.
East Bengal recently unveiled their new signings and claimed that Sukhdev, Devraini, Bali and Aidara have signed for the Red and Gold. But, the players and their parent club have completely denieed the reports.
Published: Thu Apr 26, 2018 10:51 PM IST