The Indian paddler has brought several glories home and made India proud multiple times. 
The passion of table tennis was sowed into Sharath since the tender age of 4, and since then, his journey has been a commendable one. Sharath Kumar belongs to Tamil Nadu. He was born on 12th July 1982 in Chennai. His father and uncle introduced him to the world of table tennis. He fell in love with this sport ever since. 
Sharath had this habit of winning and hated losing, which resulted in some severe outbursts. Sharath is a testament to perseverance and dedication. He started table tennis professionally from class 10th, and his state-level debut was after class 12th.
Here are the top five achievements from Kumar's career.
Here is a glance at the top 5 achievements of Sharath Kumar's shining sports journey:
1) First Indian to win a gold medal in the Table Tennis Championship at the Commonwealth Games:
The Tamil Nadu based table tennis player brought India its first gold at the Commonwealth Games in 2006 held in Melbourne. He defeated the favourite crowd Australian William Henzell and created history at the men's singles tournament. He still reminisces this memory and posts this on social media: The paddler shared his fond memories on social media and said, "Won India's first gold in Table Tennis at the Commonwealth Games on this day in 2006. Still, remember how I couldn't sleep the night before the finals and all the anxiety. A pleasant memory to look back on, now."
2) Arjuna award Recipient 2004 :
Sharath Kumar is a tailor-made sportsman for Table Tennis. After Kamal won gold in the men's singles event of the Commonwealth Table Tennis Championships in Kuala Lumpur in 2004, he was awarded the fourth highest civilian award Arjuna Award. He became an Arjuna awardee at the age of 22, and since then, he has been setting records. Kumar has become a national icon and an idol for many young kids.
3) First Indian to win the Pyongyang Invitational Tournament:
Like every other sports star, Sharath Kamal Achanta also had his fair share of struggles. He had to choose between his studies and Table tennis. Thank god he chose the latter.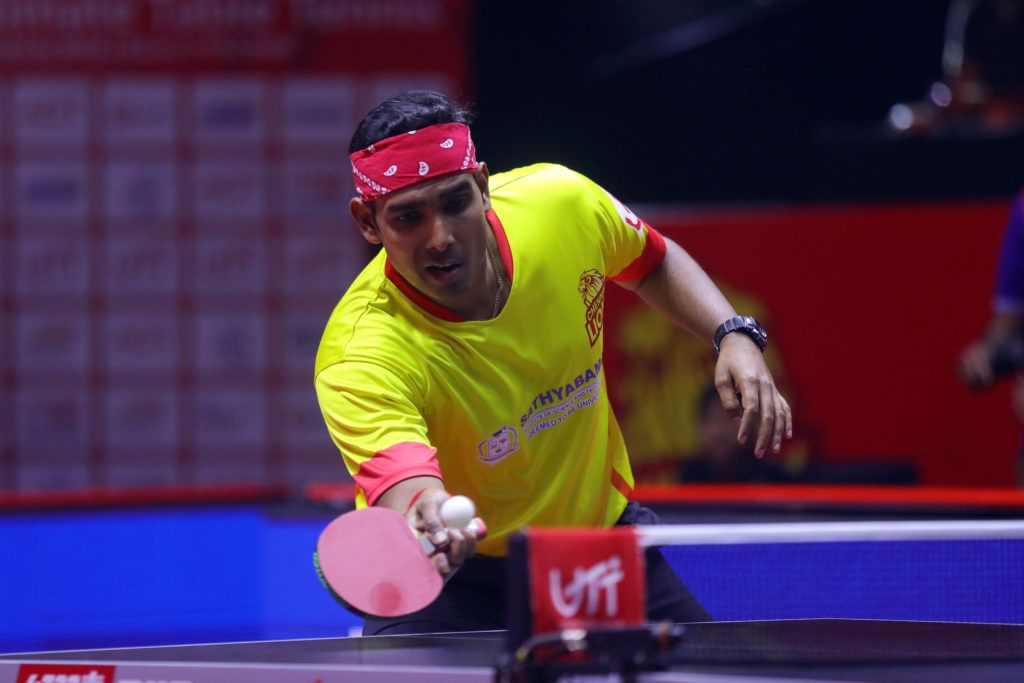 India's top paddler showed his reigning form in the 21st Pyongyang Invitational Tournament held in North Korea from Aug 30 – Sept 3. he beat North Korea's top player Kim Hyok Bong 10-12 12-10 5-11 11-8 13-15 11-8 11-6. This certainly gave him a confidence boost as the tournament featured players from seven countries, including China, Hong Kong, Singapore and host North Korea.
4) Highest-ranked Indian table tennis player:
Veteran Indian paddler Sharath Kamal Achanta surpassed G Sathiyan to become the highest-ranked Indian table tennis player after his title-winning performance in Oman Open in April 2020. This was his first win in almost ten years, where he leapt seven positions and grabbed the 31st position in the latest senior men's rankings released by International Table Tennis Federation. He happily posted this on social media: "Some positive news, midst all the negativity currently. Feels great. Just the news I needed while I find myself away from the game during this lockdown" His current world rank is 41st.
5) First Indian table tennis player ever to become nine times Senior National Champion :
The shining paddler became the first Indian table tennis player to become nine times Senior National Champion. Thus he broke the record of eight time National Champion Kamlesh Mehta. Sharath has made his name in the sports world with constant dedication and hard work. His journey is truly a journey to behold. He now plans to win more glory and represent India in many other countries.
For more updates, follow Khel Now on Twitter, Instagram and join our community on Telegram.