Tennis legend Pete Sampras once said he would gladly receive the Serbian's return and speed.
Several tennis greats have opened up their arms in the last decade to welcome Novak Djokovic into the history books. As a 12-year-old, who had to endure the demons of NATO's 'humanitarian' bombing of Serbia in 1999 – Djokovic still cannot bear loud noises. However, he does not feel fear anymore – a trait you must have witnessed many times.
"We decided to stop being afraid. After so much death, so much destruction, we simply stopped hiding. We began to make fun of how ridiculous our situation was… One friend dyed his hair to look like a bull's eye.. a target," highlights Novak Djokovic, in his memoir Serve to Win.
While the 78-day bombing created a mental beast – hard work, dedication and an uncharacteristic meticulous approach towards his body made him a physical specimen.
Former French player Henri Leconte calls him a 'Plastic Man'. "The way he practices, he has a new technique; he is more flexible than anyone else. Before we used to say you need muscles, you need power; it's not the case anymore, you have to be fit. You have to be able to react as well, be light, be flexible, you have to be many things. When I watch him slide, I just think I would break myself. He is capable of doing it. He is unbelievable."
Is it just mentality and physical fitness that makes Novak Djokovic the behemoth he has become, with 19 Grand Slams to his name? Let's get into the details of the magic he unfurls on the court.
Return of serve
Arguably the best backhand return in tennis ever, his return of service makes him strong and gives him a major advantage. His upper body rotates almost 90 degrees sideways and his target point is in the middle of the court, negating the effect of the serve.
Players such as Rafael Nadal like to play long rallies and writhe out points, but the Serb, with that controlled return, does not allow the first shot advantage to his opponent, cutting down his grind. There is something unsettling about Djokovic's almost-robotic court coverage and machine-like returning ability.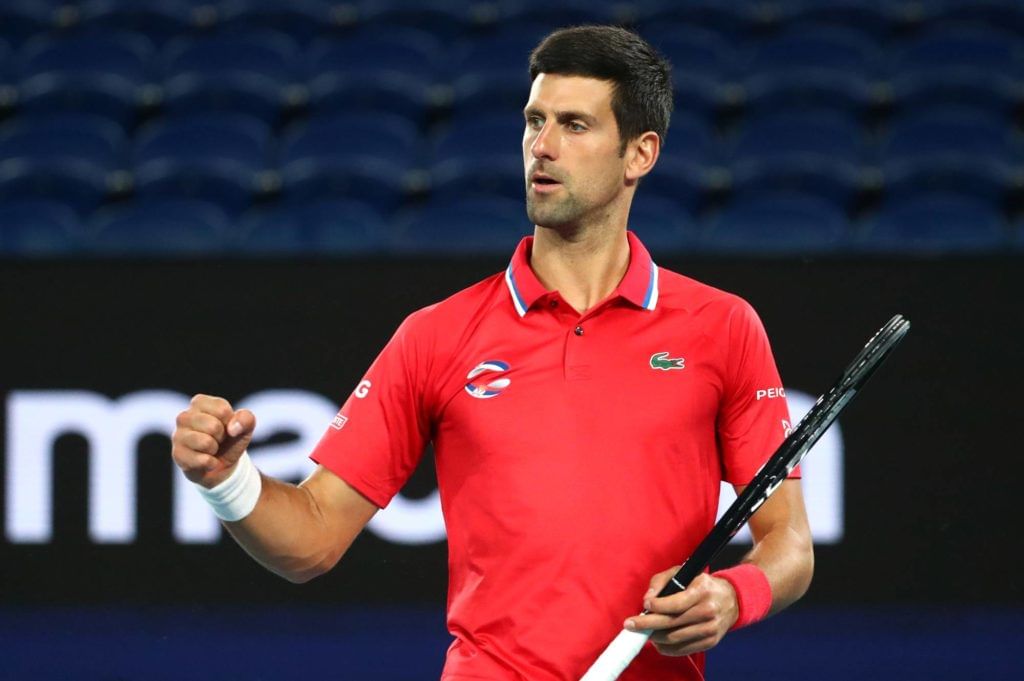 The discipline he practices, sets him apart from the rest and at 34, he is looking nowhere close to declining. His last Grand Slam title victory at the Roland Garros against Stefanos Tsitsipas is a testament to that. A piece by Tim Adams in 'The Guardian' says Novak Djokovic checks the precise colour of his urine at the same time every morning to ascertain and assure himself of the right level of hydration. If there's a slight aberration, he takes corrective measures. This has helped him build and maintain a body that can slide three to four meters in seconds to help him return shots that otherwise would be deemed impossible for most players.
Also Read: Top five longest matches played in the history of tennis
Accuracy
His accuracy – often missed in conversations because of the casualty he performs it – is a major facet in his game. Place a coin on the court and he will hit it on a consistent basis. What makes him even better is his ability to deliver accurately even at full stretch and Tsitsipas knew it. Leading two sets to none, the Greek youngster was challenging the World No. 1 at the beginning of the third set. The score was 1-1 and 15-all with the 22-year-old serving.
After a brilliant groundstroke, Tsitsipas returned with a deft drop shot. Djokovic was at least three yards behind the baseline and the point looked settled in favour of his opponent. This point marked the beginning of a comeback, a comeback that won him his 19th Grand Slam title.
He ran to the net in a flash and dabbed the ball crosscourt at an acute angle with his racket head unimaginably well-controlled. Tsitsipas had no answer to this and to what ensued. Novak Djokovic ended up winning the French Open for the second time in his career.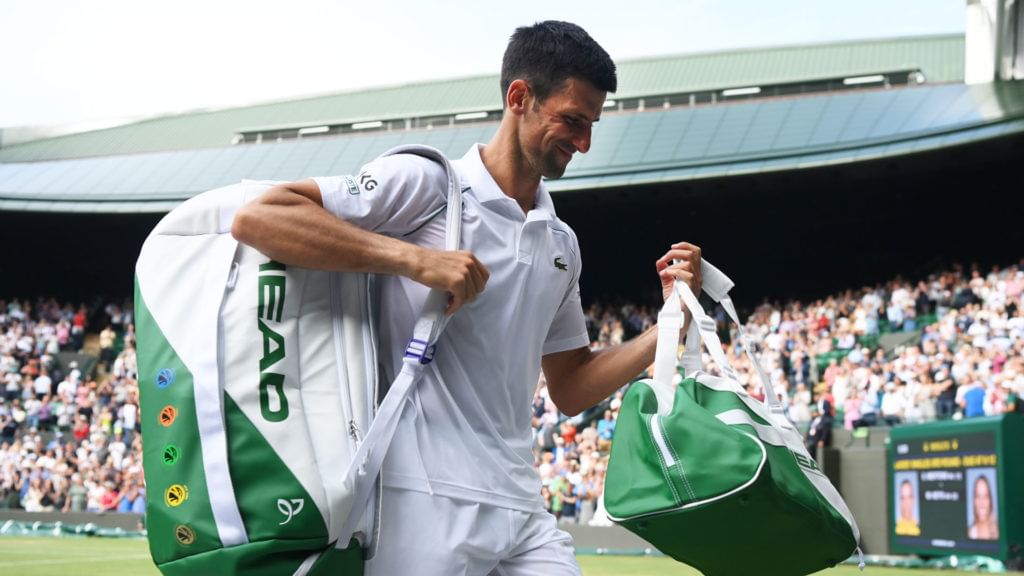 This point had everything that makes Djoker a great of the game – sheer perseverance to sweat it out even on lost causes, technical ability to outwit his opponent and a characteristic champion attitude that dispels any form of fear. He has carried forward the great form in Wimbledon 2021 as well. Novak Djokovic reached the last 16 of the tournament on June 2 after beating Denis Kudla in straight sets.
Comparisons
Fans of the more celebrated names of the 21st century – Roger Federer and Rafael Nadal – often raise several questions. Does Djokovic have the class and effortlessness of the Swiss magician? Does he possess the tenacity of El Nino? Renowned coach Nick Bollettieri answers this aptly, "When you look at match players in the history of tennis, I don't believe that anybody can equal everything on the court that Djokovic does."
"I don't think you can find a weakness in his game. His movement, personality, his return of serve, his serve, excellent touch, not hesitant in coming to the net, great serve. Overall, almost every player has a downfall; to me, he doesn't have one. He's perhaps the best put-together player that I've seen over 60 years."
The infallibility in his mind and on the court, supported by his records, statistics and consistency makes him one of the residents in the top echelons of the sport. He is the only person in the Open Era to win the Career Slam twice, a record that will be pretty difficult to emulate.
For more updates, follow Khel Now on Twitter, Instagram and join our community on Telegram.