The list consists of several heartbreaking stories of players, some of whom could never perform the same post recovery.
Andre Gomes was subjected to a horrific tackle by Son Heung-min in Tottenham Hotspur's latest encounter against Everton. The former Barcelona midfielder had recently recovered from the doomsday of Catalan to begin a new chapter in his career at the Merseyside. Premier League fans' hearts naturally go out to players as injuries like such look ghastly to the naked eye in front of the television.
Fortunately, the midfielder is now recovering from the injury. Meanwhile, Seamus Coleman, who himself had been victim to one such horrific leg break went and consoled Son who visibly looked shook after this incident.
Here, we look at five footballers in the Premier League who have suffered such gruesome injuries on the field.
5. Andre Gomes
Gomes had gone through some terrible days at Barcelona where he was lambasted to criticism aplenty. He was hardly given any minutes on the field at a stretch to prove his true mettle as a footballer. However, he resurrected his career at the Goodison Park in the previous season which was a year-long loan term for him. The Portuguese then signed permanently this summer and this injury comes up as another blockade in his fledgling career.
Whilst the 26-year-old looked to move ahead with the ball on the touchline, Son attempted a crucifying tackle from the behind to stop his run. Gomes fell in agony and the sheer pain was completely visible on his face. Son was sent off and he too left the pitch in tears with the hands covering his head in disbelief. We hope Gomes has a speedy recovery and returns back to full fitness as soon as possible!
4. Aaron Ramsey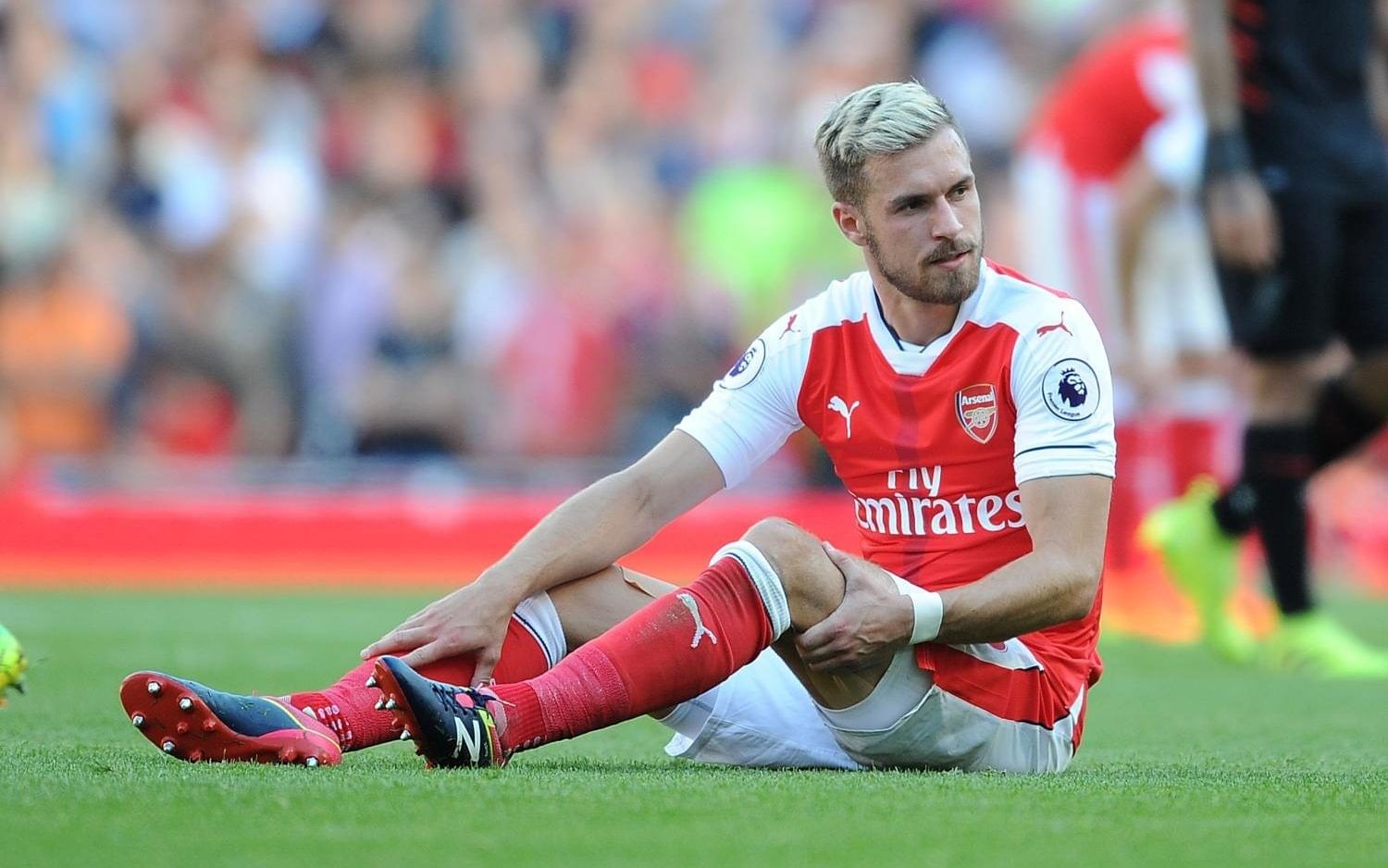 Aaron Ramsey took almost nine months to recover from the ghastly injury.
Back when Aaron Ramsey was still a budding footballer for Arsenal in 2010, his career had come to a halt via a tackle from Ryan Shawcross. The Welshman was gliding across the midfield with the ball. That's when Stoke City's Shawcross crashed into Ramsey's right shin thus breaking his tibia and fibula. He was drawn to a long layoff thereafter. Almost nine months of recovery, after which he could play yet again for Arsenal.
This injury happened at a particularly disappointing time in the lad's career. He was just making a name for himself in the circuit. Such instances at such a nascent stage in one's footballing journey never serves anyone well. Arsene Wenger had expressed his displeasure thereafter.
Ramsey himself said that all kinds of thoughts crossed his head after seeing his leg post Shawcross' tackle. However, one can only take a breath of relief that Ramsey has endured a fairly successful career for almost a decade now despite that injury.
3. Petr Cech
For anyone who started watching growing up in the late 2000s, the sight of Petr Cech guarding the goal with a skull cap over his head remains a particularly peculiar memory. However, once one comes to know about the grievances of the injury, it compels one to applaud the man to maintain such a laudable football career shoving aside this obstacle. So, against Reading in October 2006, Cech collided with Stephen Hunt right in the beginning stages of the game.
Hunt's knee hit Cech and he was treated on the field but the custodian kept himself on the field for some minutes hereafter too. However, he was taken off after some time and then a surgery was done for his depressed skull fracture. The doctors later emphasised on how atrocious that injury could have turned out to be for Cech. They actually said that he could have lost his life in the process.
The magnitude of this injury was such that the goalkeeper has specifically stated that he has no memories of the injury itself. He returned to action on the field after three months and then has played his entire career with a cap protecting his skull.
2. Hatem Ben Arfa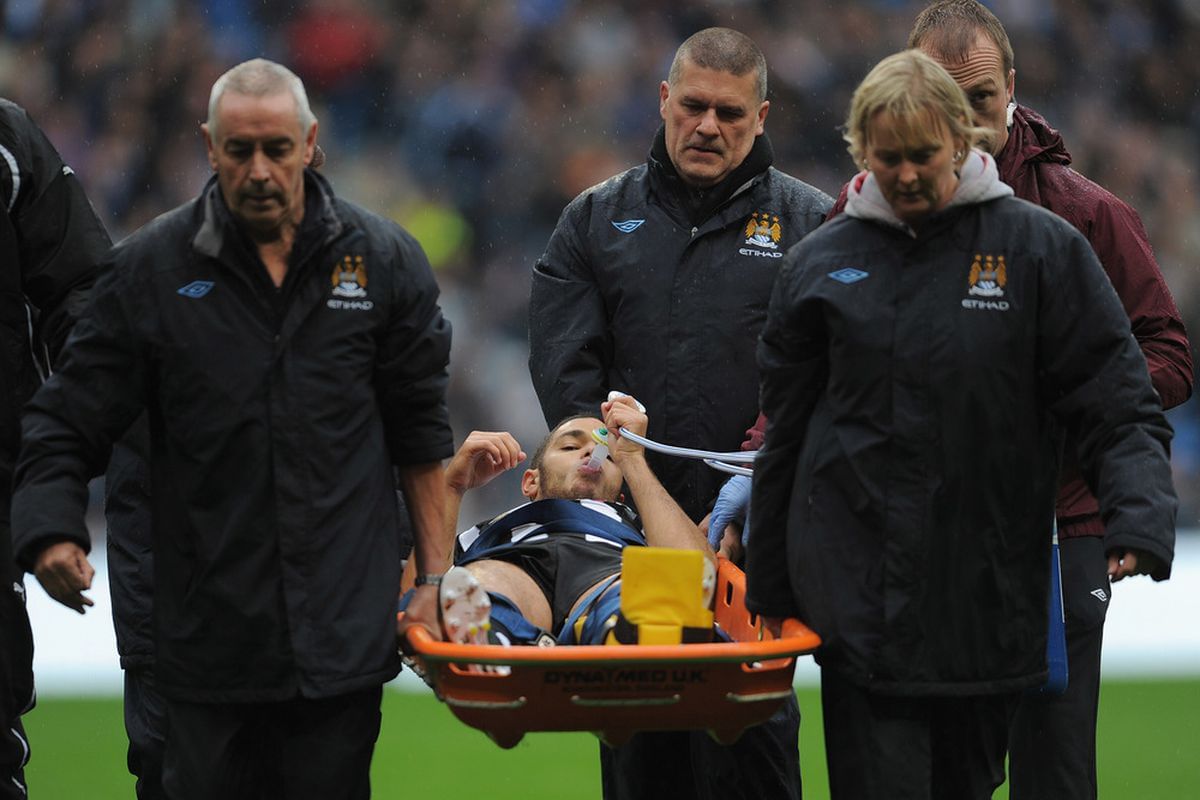 Ben Arfa returned to light training seven months after suffering the injury.
Hatem Ben Arfa represented Newcastle United back in 2010 when he suffered a double leg fracture in a game against Manchester City. He had just moved to England and it was in his fourth game over there when he was brought down through a tackle by Nigel de Jong.
The left-winger had looked to indulge in one of his pacy runs through the flanks. Arfa was left devastated and had to undergo a surgery at the Manchester Royal Infirmary in order to recover from this blow. The tibia and fibula of his left leg were fractured on the field.
Further, he was unable to represent the club anymore that season. He returned to light training after seven months but was not thrown into first-team action. He was rather eased in during his rehabilitation process with some friendly matches before the 2011-12 campaign. He played a few matches as a substitute, but his first goal on return came in late December. This was almost 15 months after he suffered that injury against City.
1. Ryan Mason
Ryan Mason's case is probably the most disheartening one as the midfielder was actually forced to retire from football completely at the age 26. Mason suffered a skull fracture in a January 2017 game against Chelsea. He was defending a corner for his team when a clash of heads between him and Gary Cahill resulted in him going down and was subsequently treated upon for almost nine minutes on the field.
Eight days later, a surgery was conducted on him but Mason continued to struggle incessantly during the recovery period until he reached a breaking point. He finally took the decision to quit the game altogether. He had said that the risks involved in the nature of the injury compelled him to retire from the sport despite his numerous efforts to make a comeback.
Mason had represented the national team once back in 2015 and it is endlessly daunting to see an improving career of a talented footballer like him being brought to such an end eventually. This sport could turn out to be pretty cruel at times!