ISL- Indian Super League
Indian Super League 2022-23 season review: FC Goa
By

Riddhiman Sarkar
The Gaurs failed to make it to the knockout stages for the second consecutive season.
As the last matchday ended in defeat, disappointment was rife on the faces of Carlos Pena and the FC Goa contingent. Victory against the Red and Gold Brigade had given them hope but a draw against their closest rivals robbed them.
Odisha FC were tied on points with the Gaurs and a draw and two consecutive losses sunk Goa's ship. Eventually, they finished on the fringes of qualification and were reminiscent of the 2021/22 Mumbai City side. Although they were exciting to watch in general, they often had that missing creative spark or defensive grit that they needed to grind out results.
Debutants like Noah Sadaoui and Iker Guarrotxena pitched in with good numbers and scintillating plays. But overall, their players' individual lapses amounted to a price too heavy for them to pay still. Standout striker Alvaro Vazquez failed to impress and signified how their faulty transfer strategy.
Fact Sheet for FC Goa in the Indian Super League (ISL) 2022-23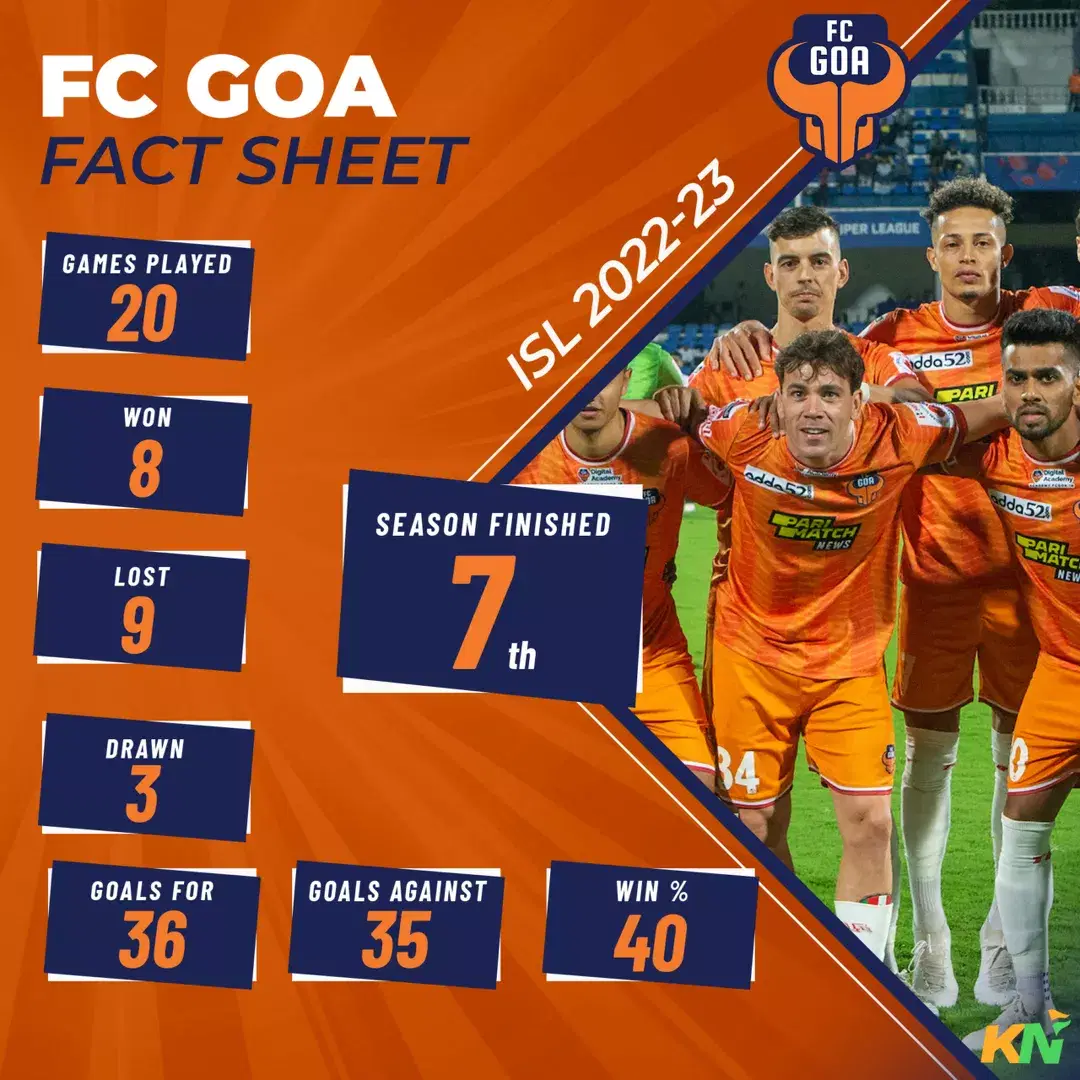 Top performers:
Iker Guarrotxena
The Spaniard's debut in the Indian Super League was marked with scintillating displays and well-taken goals. He set up a visual treat and made sure to make himself a fan favourite immediately. Guarrotxena did take some time to establish himself as a threat to any side but once he got going, there was no stopping him. He scored the most for his side as his final tally for the season amounted to 11 goals finishing joint second in the Golden Boot race.
Although the veteran Athletic Bilbao graduate has a penchant for playing on the left wing, he displayed his versatility brilliantly. Setting up passing triangles with Edu Bedia, Brandon, Noah, and Redeem Tlang or Alvaro Vazquez seemed effortless to him.
Iker Guarrotxena's eye-soothing ball progression up the pitch also brought on glimpses of Spanish tiki-taka. Most oppositions would be baffled as he would often drop deep and ease pressure with a flurry of passes. Doing so also established him as someone whose ball-carrying volume is one of the highest in the Indian Super League.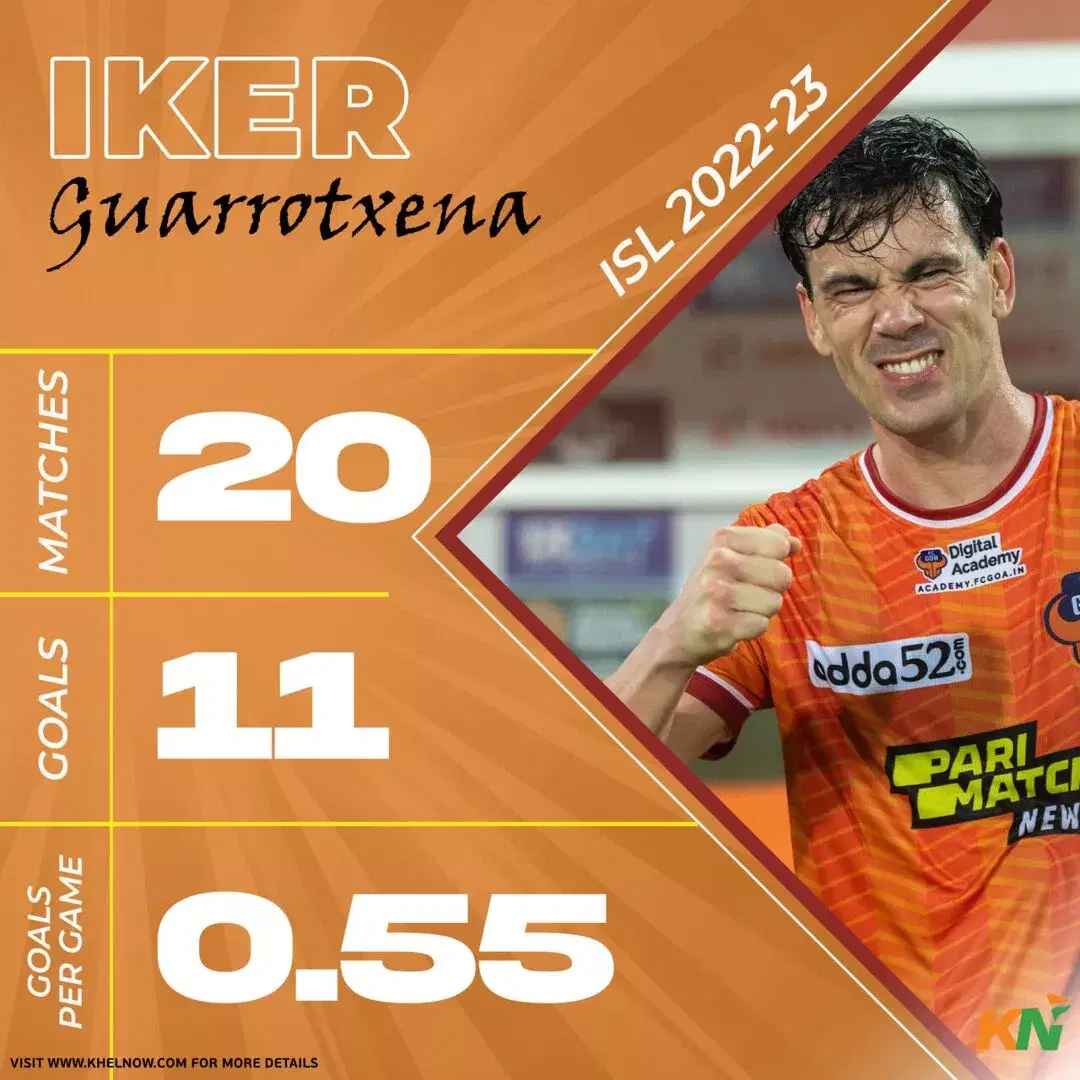 Though he did face difficulties against low-block sides, his unorthodox nature of scoring also made him a surprise package. For instance, no one expected him to be the forward that flies into diving headers and acrobatic volleys like against East Bengal and score from the most acute of angles.
He took not only the other teams but even the league and fans by surprise as he attempted a massive 57 shots on goal. FC Goa can only hope he chooses to continue with them while maintaining his form.
Noah Sadaoui
The rapid Moroccan winger was another eye-catching debutant for Carlos Pena's hard-working Goa side. More often than not, his side relied on his breakneck speed of dribbling, shooting, and decision-making to lead attacks. His football not only yielded results but genuinely made it challenging for other sides to deal with him single-handedly.
The New York Red Bulls academy graduate flaunted his fluidity just like Guarrotxena as he was fielded in a variety of positions. However, as opposed to his teammate he was more inclined to hug the touchlines to tee up teammates rather than drop deep.
Noah preyed on his opponents from the flanks and hit them hard and fast whenever he sniffed an opportunity. He completed dribbles and identified blind-side runs behind defenders extremely well to set himself up for some amazing goals.
During one of his best performances, he scored once and set up two more goals as he dismantled Odisha FC by himself. That was testimony to the fact that he was not shy of shooting as he finished with only one shot less than Guarrotxena for shots on goal.
Overall he finished highest in the league for assists this season with nine to his name. With the added contribution of nine goals, he was also awarded the KFC Baller of the League award deservedly.
Brandon Fernandes
The captain was one of the hardest workers in an FC Goa side desperate to restore themselves to their days of former glory. While they might not have had favourable results, Brandon represented their workhorse ethic. Despite playing as an attacking midfielder, the Indian international not only showcased sublime dribbling and shooting but pitched in for the dirty work as well.
He generated 41 chances for the Gaurs (the highest for his team) as he finished sixth in the entire league for the same parameter. Sadly, only three of those counted as he mustered only three assists, but otherwise he excelled. His free kick against East Bengal FC gave a short glimpse into his true potential and he often harnessed the same.
In terms of total pressure applied in the final third, he was top of the pile amongst his teammates. He often robbed the ball off his opponents as a result and most of the 24 tackles he made were for the same reason. Brandon's tackles ranked him the highest among his FC Goa teammates as he was quite the spirited one.
His energy often landed him in the book (four times to be exact) as he also committed 11 fouls in 20 games. Nevertheless, his side will expect him to maintain this energy and hope to keep him as the fulcrum of the squad for the upcoming seasons.
Brandon's energy often landed him in the book (four times to be exact) as he also committed 11 fouls in 20 games. Nevertheless, his side will expect him to maintain this energy and hope to keep him as the fulcrum of the squad for the upcoming seasons.
Under-Performer of the season:
Edu Bedia
FC Goa's seasoned nimble-footed midfielder did not live upto the standards he had set in previous seasons. Although he did not commit too many glaring mistakes, he was below average for maximum games. His ability to dictate the tempo from the middle of the park is well-renowned.
After the first game, fans and experts alike were convinced he is the same old Edu Bedia who the opponent teams hated for his laser-guided precision and vision in passing. But his cutthroat efficiency was missing for all 18 games he played as he looked like a blunt sword.
The former Real Zaragoza player barely managed six goals and assists. His teammates also let him down as he could only do so much by creating 37 chances for them.
19 fouls in 18 games did not help his case as he was too frustrated at times and manifested it in the wrong manner. That got him a total of six yellows in the league as well as one red card in the 4-1 defeat to Mumbai City FC.
As one of the foundations of a passing and attacking-oriented side, the Gaurs need him back to his best for the next season. Needless to say, FC Goa desperately requires his creative output in order to reach the heights they hope to.
Top Performances
1. FC Goa 4-2 East Bengal FC
2. FC Goa 3-0 ATK Mohun Bagan FC
3. FC Goa 3-1 Kerala Blasters FC
Manager's Report Card
This was Carlos Pena's first foray into management as the former Gaurs left-back returned to his side to take the helm. Despite high pressure and budget constraints, the Spaniard managed to pull FC Goa out of a hapless pit.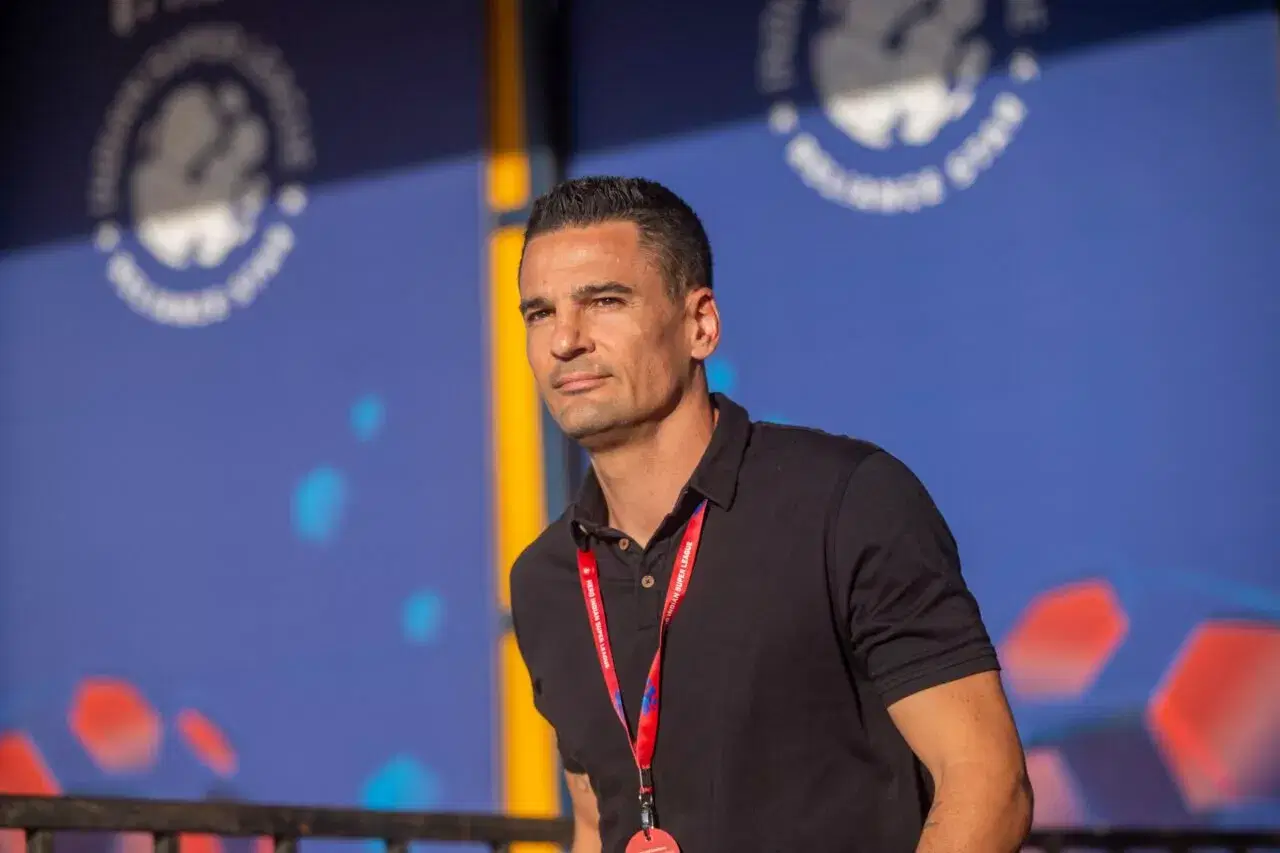 Though the success may not be measurable in terms of silverware, he did imbibe a sense of hard work in his players. FC Goa's never-say-die attitude seems to have returned as they put in their 100% in every match. Aside from his final matchday outburst against the referees, Pena was more or less professional in his approach. He handled his role well as he exhibited tactical open-mindedness fluently.
He tweaked his side well according to different sides but the only thing missing often were substitutions. FC Goa did look like they were lacking one or two crucial players for more than one fixture, but subs can often change a game drastically. Mistimed changes took some games far beyond the reach of recovery for his side too many times. But his constant backing of his players and objective approach towards a game plan was commendable. His eagerness to learn on the job yielded more positive results than negative ones. That said, his stint with FC Goa can be a nice little addition to his CV for his future employers.
Lessons to be Learned
FC Goa have recovered substantially from their bottom-placed finish in the previous season. However, they must not get frustrated by their inability to break into the knockout stages this year. New management along with changing faces amidst the playing contingent are all harbingers of a revolution.
They must stay patient and build on whatever progress they have made. A revamped transfer policy should be utilized to target reliable foreigners and combine that with game-time for youngsters. FC Goa's youth academy is one of the finest in India as they have state-of-the-art facilities which are the subject of envy for all other clubs.
The board must rope in sponsors to fuel this youth project in order to sustain the club and avoid falling into obsolescence. Additionally, they must also appoint a proper coaching staff who are capable of handling such a massive turnover.
Fan View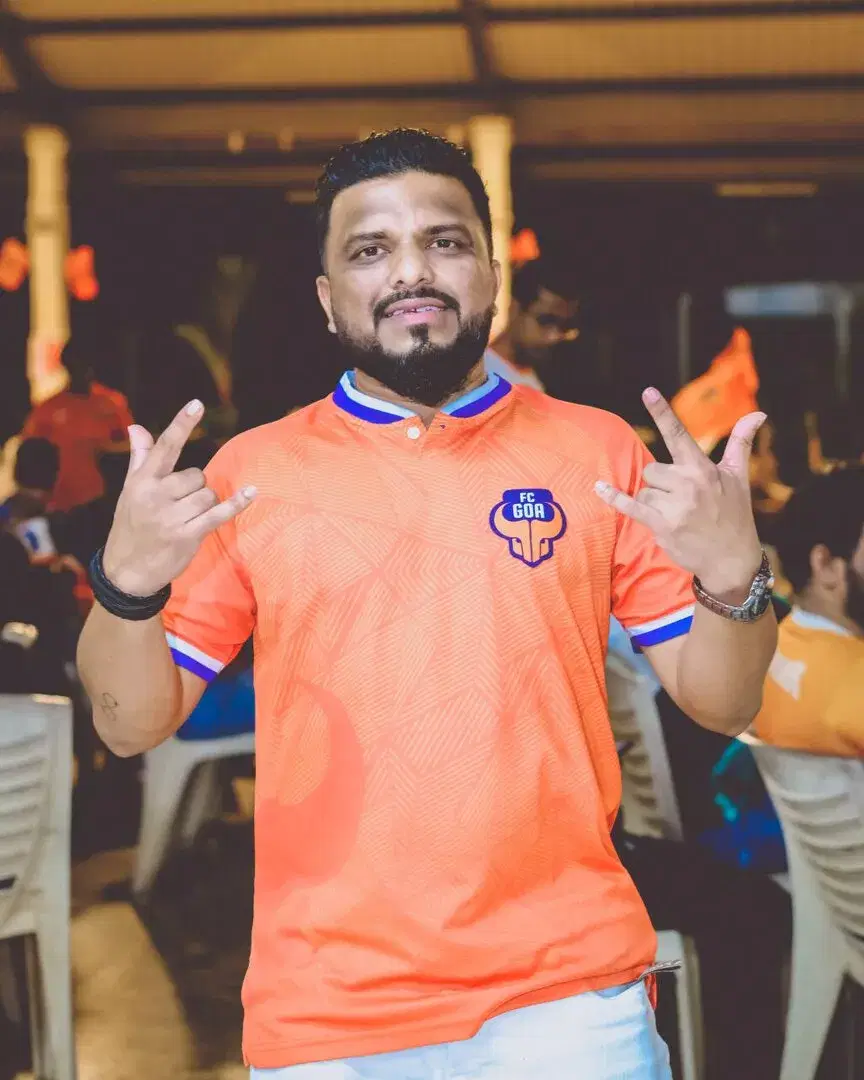 FC Goa made a huge decision before the start of the season by signing Carlos Peña as the head coach this season. It was an emotional choice and a big gamble which almost paid off.
The season can be split into 4 halves, the start, the slump, a revival hope & then the same old ending. We never had a game plan and despite having a good start we looked far from convincing.
Many point out that having an out of form striker hurt us a lot, but I would rather say silly defensive errors & an unconvincing custodian between the posts cost us more.
Alvaro Vasquez scored only 1 Goal the whole season, but the lad hardly got any supply & service. Peña's strategy was all about passing the ball to Noah's chest & moving on from there.The strategy paid off many a times but by the end of the season the rabbit was out of the hat.
I must point out, refereeing errors cost is badly this season too, like the clear Siva Shakti offside in a do or die against BFC, but what hurt us more was just was 1 Point in the last 4 games.
Apart from a few good signings like Noah, Iker & Anwar, the general Fan View was that FC Goa lacked the ambition to be the best with some average recruitment for the past 2 seasons considering our high standards in the past. This reflected massively by lack of fans in the stands despite tickets being priced at the lowest in history for the last few crucial matches.
That said, I think the Gaur has finally woken up as we're hearing of some big changes next season. I know we haven't won the coveted ISL Trophy yet, but as long as the club shows hunger & intention to #RiseAgain, we loyal fans will always stand by our beloved FC Goa.
For more updates, follow Khel Now on Facebook, Twitter, Instagram, Youtube and join our community on Telegram.