Indian Football
Indian football has grown over time but needs improvement at grassroots level, says Climax Lawrence
By

Alen Philip Mathew
The former India international also revealed his current favourite Indian midfielder.
Former Indian footballer Climax Lawrence has always been an influential figure in the Indian football scene. With his vast experience and valuable insights, his answers during an exclusive interview with Khel Now shed light on various aspects of Indian football, ranging from the development of young talent to the state of clubs and the national team.
The former Indian midfielder recently joined us in an exclusive chat. Covering several topics in detail, he talked about the overall growth of Indian football over the years.
Let's delve deeper into Climax Lawrence's thoughts and observations on what needs to be done to improve the game.
Sunil Chhetri's success and finding a replacement
While talking on the massive task of finding a replacement for the legendary Sunil Chhetri, Climax Lawrence acknowledged the difficulty. He mentioned the emergence of young talents like Manvir Singh, Sahal Abdul Samad, and Ishan Pandita, who have shown great promise.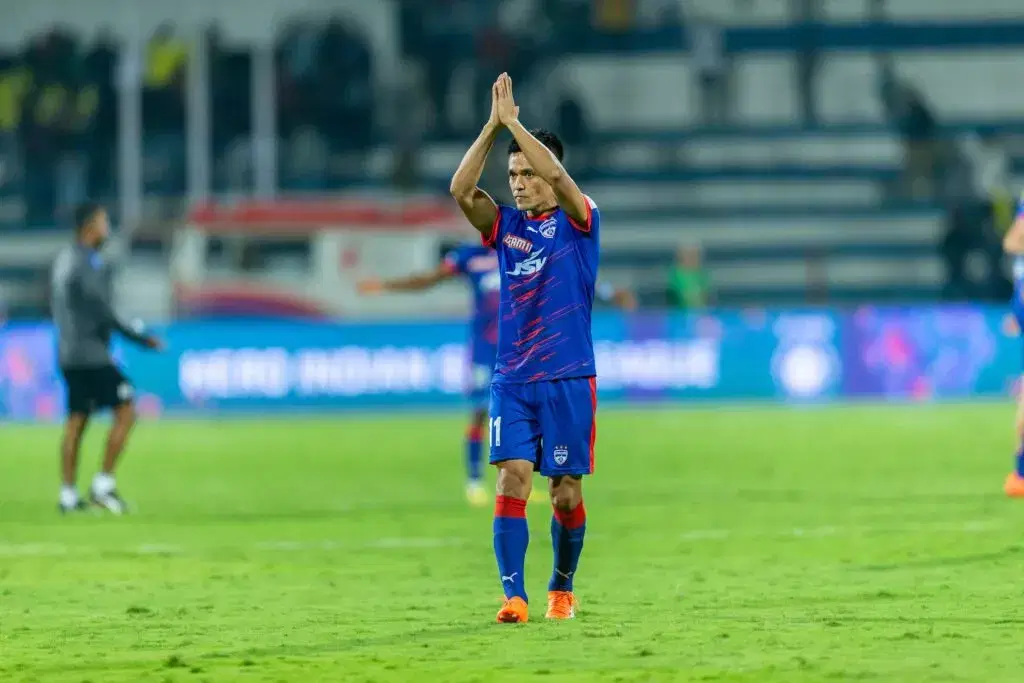 "Sunil Chhetri is a legendary player, and it will be tough to find a direct replacement for him. However, there are some young talents like Manvir Singh, Sahal Abdul Samad, and Ishan Pandita, who have shown a lot of promise in recent times and can be groomed. I believe we need to identify and invest in these young players."
Growth of Indian football
Climax Lawrence highlighted the need for continued improvements, particularly at the grassroots.
"Indian football has grown over the years, especially with the emergence of the Indian Super League and the increased popularity of the sport among the youth," he said. "However, there are still improvements that need to be made, particularly at the grassroots level. We need to focus on developing talent at the grassroots level and providing young footballers with better facilities and training."
Bibiano Fernandes and the India U-17 Team
The India U-17 team are currently in Thailand to play the AFC U-17 Asian Cup. They head into the tournament, with two positive tours in Spain and Germany, where they sneaked out some positive results against teams like Real Madrid and Atletico De Madrid.
The former India international praised Bibiano Fernandes for his work with the India U-17 team. "Bibiano Fernandes has done a phenomenal job with the U-17 team, and I would like to wish him and the team all the best for the upcoming competition. I would advise the team to enjoy the experience and give their best on the pitch."
Propagating football in non-traditional regions
In March, the AIFF organised the Hero Tri-Nation Friendly Tournament in Manipur. The state saw India play for the first-time ever in the city of Imphal. Lawrence expressed his belief in the potential of organizing tournaments and matches in regions where football is not traditionally popular.
"I believe that organizing tournaments and matches in places where football is not traditionally popular is a great way to propagate the game and also develop and scout talent from all across the country. This exposes people to the sport and increases their interest, which in turn helps in identifying new talent. The national team needs to play more and more games and it will help to find a solution for all."
Which Indian midfielder currently impresses him the most?
Climax Lawrence shared his admiration for Brandon Fernandes, a talented midfielder who has consistently impressed for both club and country. He started, "There are several talented midfielders in the Indian football scene currently. However, one that has impressed me is Brandon Fernandes. He has been consistent for both his club and country and has the potential to become a world-class midfielder."
But why? Lawrence outlined, "His passing accuracy, vision, and ability to read the game are some of his key strengths, and I believe that he will continue to excel in the coming years."
Liston Colaco's performance and handling ups and downs
Reflecting on his own career experiences, Climax Lawrence shared his thoughts on Liston Colaco's performance during a season where he seemed out of form. He emphasized on the significance of maintaining a strong mindset and working hard during challenging situations.
He iterated, "When I was a player, I faced many ups and downs in my career. It's important to have a strong mindset and keep working hard during such situations. I used to focus on my strengths and work on my weaknesses to improve my game. It's also crucial to have good support from the team, coaches, and family, who motivate you during these tough times. However, Liston played very well in the last Hero Super Cup and scored two spectacular goals. So, I think he is fit now and will give his best."
Internal issues in East Bengal
Regarding the internal issues being faced by East Bengal, Lawrence admitted that he was not aware of the details but expressed confidence in the club's ability to bounce back and regain its strength in the future.
"I am not aware of the internal issues in East Bengal. It's a tough situation (that) they are in right now, but I am sure they will bounce back stronger and (get) better in the future."
The process of being selected for the Indian national team?
While discussing the selection process and criteria for the Indian national team, Lawrence highlighted the importance of dedication, hard work, and consistent performances at the club, state, and league levels.
He broke the process down for us, saying, "The process of being selected for the Indian national team requires dedication, hard work, and consistent performance on the field. It starts with playing at the club level and then impressing at the state-level tournaments.
"The national team selectors also closely monitor the performances of players in the Indian Super League and I-League. If you consistently perform well and display the right attitude and commitment on and off the field, you can get selected for the national team."
Indian coaches and management decisions
Climax Lawrence acknowledged the fantastic job done by Clifford Miranda with Odisha in the Hero Super Cup. He expressed his desire for more Indian coaches to be given opportunities for growth and improvement.
"For me, Clifford has done an excellent job, he is a fantastic coach, and his achievements with Odisha in the Super Cup are something that cannot be undermined. However, when it comes to deciding the management and coaching staff for the upcoming season, there are numerous factors to be considered. I want more Indian coaches to be there and give them chances to improve."
Dempo's disbandment and hope for Goan Football
Dempo has been a significant club in Goan football, and its absence has left a void in the footballing landscape. However, Lawrence expressed his joy at the club's efforts to make a comeback and expressed hope that they would soon regain their lost glory. His sentiments extend to Goan football as a whole, emphasizing the importance of a vibrant state league and a thriving football scenario in Goa.
"Honestly, when I first heard the news, I was devastated. Dempo has always been a special club to me and for Goan football. It was hard to see them disband. I'm glad that they are now trying to make a comeback, and I hope they can regain their lost glory soon, and take Goan football and the state league back to the scenario."
For more updates, follow Khel Now on Facebook, Twitter, Instagram, Youtube and join our community on Telegram.
posted in :