The competition has been graced by some of the best in the country and their brilliant performances.
The trendsetter for football in India has to be the people's league – I-League. Over the years the league has seen several superstars gracing the game and a lot of young players starting their career after overcoming several challenges. Amid all the uncertainties and issues, the I-League has been a representative of the masses in Indian football.
From the hilly terrains of Aizawl to the backwaters of Kerala, from the beaches of Goa to the great maidan of Kolkata, from the snowy meadows of Kashmir to the plains of Chennai, the I-League has seen it all and much more. Despite all the difficulties and challenges it has faced, it remains the primary platform for producing young talents. So, standing at starting line of this decade, we look back at the 2010s, as Khel Now presents our I-League Team of the Decade:
Goalkeeper
One of the most longest serving goalkeepers in the circuit, Karanjit Singh and his heroics for Salgaocar FC often go unnoticed. He has been one of the consistent goalkeepers of this decade, where Indian football has seen the emergence of several custodians. But, the former Salgaocar man stands out just because of his longevity and consistent performances.
While Debjit Majumder, Subrata Paul, Amrinder Singh and others also came close, Karanjit was way too consistent in this decade to be left out.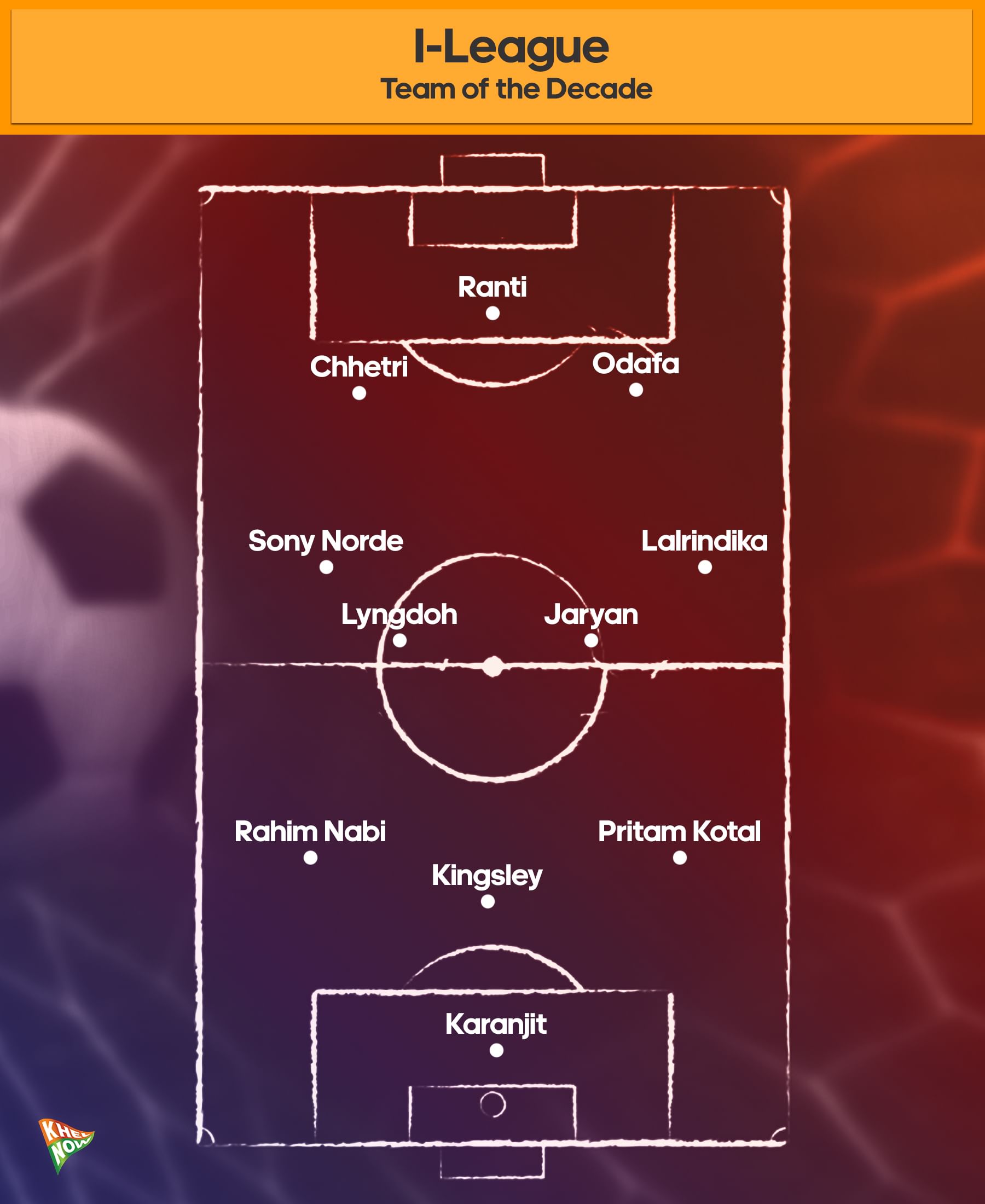 I-League: Team of the Decade
Defence
Over the years the I-League has produced top-class Indian defenders and this decade was no different. We have gone with a back three to incorporate the whole team. This includes Syed Rahim Nabi, Kingsley Obumneme and Pritam Kotal. With several defenders, foreign and domestic, coming very close, these three made the cut just because of their impact for the teams they have played for in this decade.
There were several others like John Johnson for Bengaluru FC, Uga Okpara for East Bengal and Bello Razaq for Mohun Bagan, but Kingsley made the cut for his exceptional leadership skills. The way he inspired a young, inexperienced Aizawl FC squad to win the coveted title and then later almost repeated a similar feat with Mohun Bagan. Consistent performances over the years along with a calm and composed head make him a leader of men at a relatively young age and that is the reason why he stands out.
Meanwhile, Syed Rahim Nabi is a head coach's delight, he is a tireless workhorse who can slot into multiple positions and puts in a shift in every position he has played in. From being a full-back to playing as a defensive midfielder and also slotting in as a forward, Nabi has seen it all and passed with flying colours. He was a mainstay for the Mariners in the early part of the decade and played a crucial role for them.
Another player who has been with Mohun Bagan is Pritam Kotal. The India international was part of the dream team under Sanjoy Sen that won the I-League and followed it up with the Federation Cup. Kotal has had a great decade, being an integral part of Mohun Bagan in the early part and now being a mainstay for ATK. The 26-year-old has also been a national team regular. He may have lost his place to Rahul Bheke after Igor Stimac's arrival, but Pritam Kotal is still very much in the mix.
There were a lot of other defenders who came to mind, like Naoba Singh, Gouramangi Singh, Arnab Mondal and so on, but in the domestic contingent, Nabi and Kotal stand out in terms of their impact.
Midfield:
One of the most underrated players of this decade has to be Alfred Jaryan. The 31-year-old Liberian has been the midfield general for the People's Club over the years and was an integral part of Khalid Jamil's I-League winning squad.
A lot of players have come and gone, but Jaryan has made Aizawl his home and is still leading a bunch of young, talented players under the tutelage of Stanley Rozario this season. Jaryan's impact in Aizawl FC's fairytale season has made him a figure too good to ignore for this team.
Eugeneson Lyngdoh might be struggling for game time at Bengaluru FC, but that was not the case in his previous stint. He has been one of the most dynamic midfielders India has ever produced. His ability to find the right pass and combine with the likes of Udanta Singh and Sunil Chhetri made him a vital cog in Stephen Constantine's tenure and also for Bengaluru FC in their I-League triumph.
Lyngdoh continued his exceptional form in Bengaluru's continental run, where the Blues reached the AFC Cup final.
The flanks are taken by Lalrindika Ralte, who has had a huge impact in East Bengal's decade in Indian football. Already a veteran despite being in his late twenties, Ralte has been the mainstay in midfield for the Red and Gold over the years. He has played in various roles and still remains the main creative impetus for the Kolkata giants in midfield.
One cannot imagine this decade without the presence of Sony Norde. Known as the Haitian Magician, Norde was the driving force for Mohun Bagan in their title-winning campaign. His presence on the left flank created a winning aura around the whole side and in terms of impact, there's hardly anyone who heats the Haitian in this decade.
There were other options in Climax Lawrence, CK Vineeth, Penn Orji, Yusa Katsumi and many more, but these midfielders were just ahead in terms of their overall contribution in their respective teams' success.
Forward:
It was a tough choice to pick three forwards, especially when you consider the whole decade and the level of players who have featured in the league.
It is hard to imagine the team without Odafa Okolie and his plaudits in Indian football are not unknown to anyone. His performances for Mohun Bagan and Churchill Brothers made him one of the best forwards to grace Indian soil.
Popularly known as the "Nigerian Cobra" for his knack of owning the penalty area and scoring goals for fun, Odafa scored 25 goals for Churchill Brothers right at the turn of the decade. Later on, he joined Mohun Bagan and guided them single-handedly to a top four finish, scoring 26 goals in the process. He carried that form onto the next season as well, scoring 19 times. He was a sensation in the final third, a benchmark for the forwards who came to India thereafter.
There can be a lot of debate about several other names, but there cannot be a debate about Ranti Martins' inclusion. Another Nigerian that makes it to this lineup only because of his consistency and ability to score goals every season. People may argue that he has had his heroics in the last decade, but his record in this decade is equalling enthralling.
He made the top scorers' list regularly and during his time at Dempo SC, he was the top scorer for successive seasons which also inspired a title triumph in the 2011-12 season. He followed it up with another sensational year with Prayag United, where he scored the most number of goals and guided them to a respected fourth position in the league. Even during Bengaluru FC's dominance, Martins was there in the mix, as he scored 12 goals for Rangdajied United.
His resurgence took place when he joined East Bengal and again rose like a phoenix to become the top scorer in the 2014-15 season, with 17 goals and followed it up with another campaign at the top with 12 goals. Martins' name will be etched in Indian football folklore.
Lastly, Captain, Leader, Legend as he is commonly known, Sunil Chhetri has undoubtedly been the best Indian player of this decade. The emergence of Bengaluru FC and the way he has matured into a leader to guide the youngsters for club and country is simply majestic. He has scored a lot of game-changing goals, but it is his aura which changed the outlook of the team and took them to where they are currently.
Yes, there will be a lot of debate about not including the likes of Yusif Yakubu, Daryl Duffy and others like Cornell Glen, Dudu Omagbemi and among domestic players, CK Vineeth, Balwant Singh and even Jeje Lalpekhlua. But, these three players are simply there because of their primary skill to lead their respective sides by example.