Quick Reads
Why Edinson Cavani can be the trump card for Ralf Rangnick's turnaround
By

Sudesh Baniya
The Manchester United manager recently revealed that the striker will not be leaving the club in January.
Despite speculation of Edinson Cavani leaving Manchester United, it is now safe to say he will not be moving during this winter window. The Uruguayan striker, after impressing in his first season at Old Trafford, is now backed by Ralf Rangnick. That is to say, the German certainly sees Cavani working in his system.
Despite being plagued by injuries, the striker has earned praise from the new manager. "I told him from the very first day that, for me, he is a highly important player," said Rangnick in a recent presser. "His professionalism, his work-ethic is just amazing. I told him that I desperately want him to stay until the end of the season."
So, what exactly are the points that are the basis for Rangnick's claims? Does Edinson Cavani – in the presence of Cristiano Ronaldo – occupy a greater role to turn things around? Here are a few factors that might make "El Matador" the trump card in the Reds' re-build under Rangnick.
A reliable goalscorer
Before Cristiano Ronaldo's second spell at United, the Uruguayan was the one functioning in a similar role. Most of United's goals came through Bruno Fernandes and Edinson Cavani, with the latter poaching and moving off the ball to create spaces and being on the scoring end. The 2020/21 season revealed the former PSG striker as the exact type of profile that the Red Devils required after Romelu Lukaku's departure in 2018.
While the start of this season has not looked too pleasant for Cavani, his reliability in front of goal makes him impossible to overlook. Scoring 10 goals in 13 starts in his maiden season in England was a testament to his abilities. In addition, the consistent goalscoring record, from Napoli to PSG, is also something to be considered.
With less than five full game minutes to his name this season, Cavani will look for a resurgence. Looking at the feats that he has achieved so far, the under-performance this season should not be a big concern. Hence, looking for a reliable outlet who can deliver when Ronaldo doesn't, Rangnick will have to turn to the striker.
Compatibility with Rangnick's attacking approach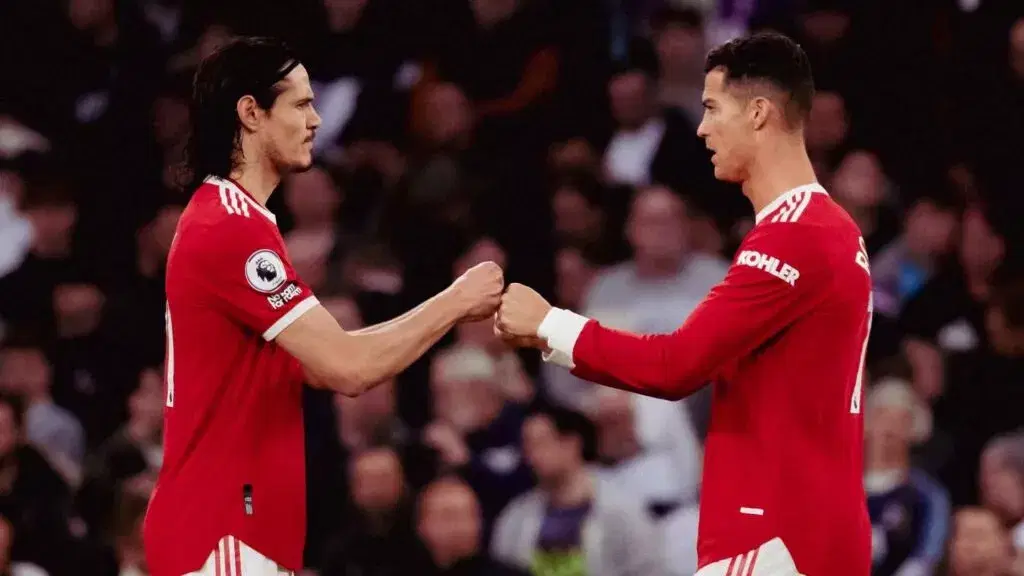 Ralf Rangnick remains one of the most influential coaches of this generation. Many coaches replicate his training routines, especially the offensive approach. Rangnick's sides generally depend on quick vertical passes to penetrate and require a mobile forward to be on the receiving end. Edinson Cavani has proven himself to be exactly that.
In addition, Cavani's incisiveness and ability to move in and around the box suits the "10 second rule." The concept of using quick vertical passes compliments the way in which this routine functions. Simply put, the German coach wants to counter press and attack immediately. Rangnick's "10 second rule" works from here on, as he expects every counter-attack to finish under 10 seconds. In Rangnick's words, the quicker it is, higher the chances of scoring goals.
Both these attacking approaches seem to fit well in Cavani's style. Also, an important member of the pressing duties, Edinson Cavani seems to be not so depleted considering his age. Provided that he becomes what he was in 2020/21, his directness and poaching movement will be compatible and effective for Rangnick's team.
Cavani's ability to attack spaces
One of the major issues that Manchester United displayed in their 1-0 loss at home to Wolves was their inability to find and create spaces to attack. The 4-2-2-2 formation, which turned into a 4-2-4 at times, saw the front four struggle to get rid of their markers. Consequently, Manchester United lost possession in the quest of passing it to the forwards. Ultimately, they ended up providing comfortable space for Bruno Lage's side to operate. All this came down to one single thing – having to pass it to the receivers, rather than passing it into the spaces that the receivers can attack.
Ralf Rangnick has worked with profiles of that sort in the past. It was under him that Timo Werner embraced a similar role in 2013/14, and notably scored 22 goals. This time around at United, he has a moulded player in Cavani. Capable of decoying to create space as well as making blindside runs to attack spaces, "El Matador" is a key component to take into consideration.
Whether or not the chemistry clicks with Cristiano Ronaldo is yet to be clear. Ronaldo will still be the one with spotlight and will be the one to be at the end of more opportunities. Yet, provided that Rangnick will want his front two to be more mobile and not get too stiff to wait for the ball to arrive towards them, Cavani will be a card that he'll look to play on.
For more updates, follow Khel Now on Twitter, Instagram and Facebook.