WWE
All WWE Superstars injured by Nia Jax
Nia Jax is one of the most powerful women's wrestlers in WWE, who has been dominating the women's division. She got signed with WWE in 2014 and had a eight-year first run until 2021, where she was a one-time Raw Women's Champion and two-time WWE Women's Tag Team Champion. She recently returned to the WWE after 2 years absence and is continuing her dominance. Despite her dominance, The Irresistible Force is known to criticism for injuring co-wrestlers and is often identified as an Unsafe Worker. Here is a list of superstars who Jax injured.
Wrestlers who Nia Jax injured
Bayley (2017)
Nia Jax and Bayley had a one-on-one match against each other ahead of having a Raw Women's Championship Match against Alexa Bliss at SummerSlam. During the match Nia Jax tossed Bayley out of the ring through the bottom rope which landed shoulder first. She screamed in pain, but managed to win the match by count out. However it was later announced that Bayley suffered a separated shoulder and was removed from the championship match.
Charlotte Flair (2017)
Nia Jax and Charlotte Flair faced each other on the October 4, 2017 episode of Raw, where Nia Jax botched moves. He delivered a botched shoulder breaker on Flair, and failed to receive a Moonsault. Which hit Charlotte's head on Nia Jax' knee, causing an injury.
Becky Lynch (2018)
On the road to Survivor Series 2018, Team SmackDown invaded Raw and resulted in a brawl. During which, Jax punched Becky right on the face and blacked her out, resulting in a bloody nose. Which made her suffer a broken nose, lacerated face and concussion and forced her to step down from a match against Ronda Rousey.
Ember Moon (2018)
Nia Jax & Tamina faced Ronda Rousey and Ember Moon in a tag team match, where Rousey and Moon won the match. There isn't any visual evidence of the injury, but Moon's husband tweeted, "Hope this unsafe moron doesn't hurt my wife again" and deleted it.
Kairi Sane
Nia Jax and Kairi Sane had a feud with each other, where Nia Jax brutally attacked Sane during a match. Nia threw Kairi over the steel ring steps, which bumped her head and busted wide open.
Mandy Rose
Nia Jax and Shayna Baszler had a match against Mandy Rose and Dana Brooke, where Nia Jax threw Mandy Rose outside and wasn't able to control the momentum, which made Mandy land shoulder first on the apron. Which made both Mandy and Brooke take her spot on the traditional Survivor Series Match.
Zelina Vega (2018)
On the first ever Women's pay-per-view, Evolution, Nia Jax participated in the battle royal. Jax, Moon and Vega were the final three members, where Jax threw Zelina out of the ring to eliminate her, which resulted in a rough landing. That took her from in-ring action for almost a month.
Rhea Ripley (2023)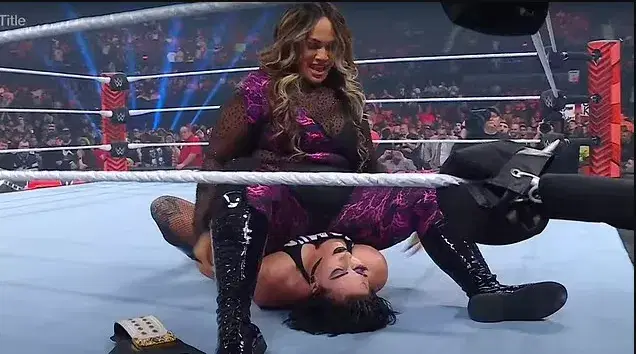 On the September 11 episode of Raw, Nia Jax returned to WWE after a long absence and cost Raquel Rodriguez the championship match, by delivering an Annihilator on Raquel. After the match she attacked Rhea Ripley and made a statement. It was later revealed that Rhea Ripley suffered bruised ribs.
Raquel Rodriguez (2023)
On the same day, Raquel was also reported to be suffering from a Whiplash following a Samoan Drop outside the ring.
For more updates, follow Khel Now on Facebook, Twitter, and Instagram; download the Khel Now Android App or IOS App and join our community on Telegram.
posted in :